This article is more than 1 year old
What is it about McDonald's, cultural black holes, and not being able to make tech work?
Get your kicks on, er, the A12
Bork!Bork!Bork! A bit of drivethru borkage is on show today, courtesy of regular contributor McDonald's.
Yes, we're back to a Chelmsford branch of the greasemonger yet again, and we're saddened to note that things outside appear as wobbly as things inside, although at least a driver hoping to sate their desire for fried delights was spared a full-on BSOD.
"We'll be right with you," exclaims the cheery message. Er, we think not. Something is amiss with DisplayX3 and Windows is pleading with the parked motorist, in this case Register reader Suzie, to put the poor thing out of its misery.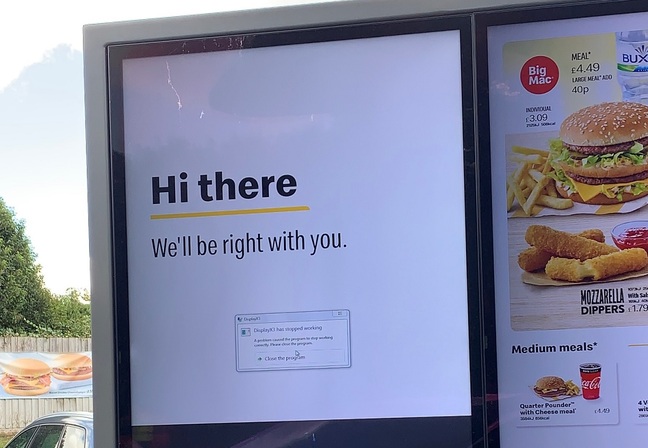 Even if the digital signage was a touchscreen, we're not sure we'd want to touch it these days. It also looks like a past customer may have had a bit of a McFlurry of their own judging by the top of the screen (or a passing bird expressed displeasure over the version of Windows running behind the scenes).
Certainly, the feeling of having to endure certain versions of Microsoft's finest can bear a distinct resemblance to a gift from a seagull, dropped from a great height.
As for making a pilgrimage to the site of this particular error, it looks like it can be found at the Boreham Interchange, just off the A12. The throbbing metropolis and cultural centre that is the UK city of Chelmsford has a selection of the patty pushers to choose from.
Hopefully the one you choose, should you be so inclined, will be free of bork but stuffed to the rafters with beef. ®