This article is more than 1 year old
Yak-yak app Slack cracks, flacks gobsmacked: Can this bug be whacked or will code be rolled back?
IRC-for-the-2020s up and down as it catches a bad case of the Mondays
Slack has been up and down on Monday thanks to a mystery issue the software's maker is still probing.
The next-gen IRC creator said it is aware that some netizens, whether they are using the desktop or mobile flavor of the app, are at times noticing delays or are unable to send messages. The glitches began to manifest around 0700 PDT (1400 UTC) and have continued through the US morning.
"Some users may be unable to connect to Slack, while others are still experiencing general performance issues," the biz told punters in an 0840 PT (1550 UTC) update. "Our team is working to get to the bottom of this and we will share more news soon."
Just before we were about to publish this article, Slack uploaded another update: "Things are trending in the right direction, but some customers may still be experiencing issues. We'll be back soon." We asked Slack for more information on the outage, and got the following canned statement:
"Our teams are aware and are investigating the issue. We know how important it is for people to stay connected and we are working hard to get everyone running as normal. For the latest updates please keep an eye on slackstatus and status.slack.com."
Judging from complaints to Downdetector.com, anyone who was awake and trying to use Slack – particularly those in the US and Europe – ran into problems: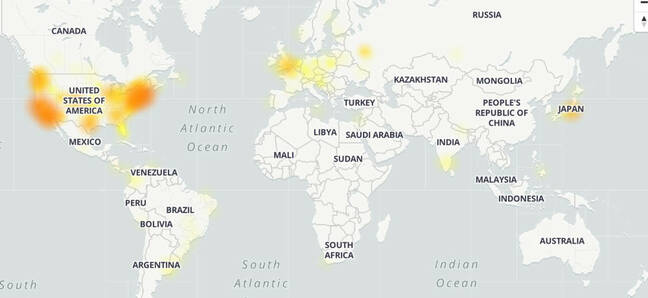 While Slack throwing a temporary wobbly likely wouldn't be news on any normal day, in our new, pandemic-hit, socially distanced world, the outage is noteworthy because millions of people have become dependent on the app to communicate with their friends and co-workers.
Over on Twitter, the outage was met with good humor for the most part, as users joked about taking the occasion to extend their weekends a bit longer.
if Slack is down, does that mean I don't have to come to work? asking for a friend

— Captain ACAB ☸️🐳 (@IanColdwater) October 5, 2020
We imagine the mood at Slack HQ is a bit less jovial, as its developers continue to work on a solution. More on this story as it develops. ®