The COVID-19 pandemic has proven fruitful for the consumer Wi-Fi sector, according to analyst house ABI Research, with shipments this year set to increase and long-term growth forecast.
In total, the sector is expected to ship 223 million units worldwide in 2020, up 10 million or five per cent on the previous year, across the SOHO and consumer premise equipment categories. ABI attributed this to the widespread prevalence of "stay-at-home" orders, which have forced millions of people to work and study remotely.
"There has been a sudden spike in the adoption of Wi-Fi routers and extenders as consumers seek a reliable Wi-Fi network that can simultaneously support multiple users and devices," said ABI analyst Khin Sandi Lynn.
"That spike and the growth in the use of applications such as video conferencing, live TV streaming, and online gaming at home resulted in consumers adopting Wi-Fi CPE for better coverage and higher capacity."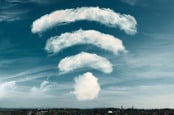 Wi-Fi 6 isn't signed off yet, but boffins are already teasing us with specs for venerable wireless tech's next gen
READ MORE
The analyst house expected growth to continue beyond the pandemic, in part due to faster and more capable 801.11ax (Wi-Fi 6) kit becoming available. 801.11ac hardware represents 80 per cent of all units shipped, the analysts said, and in a quest for faster wireless networking speeds people are more likely to upgrade sooner rather than later.
The firm forecasts consumer Wi-Fi device shipments to reach 259 million a year by 2025 — or 36 million higher than 2020's projected figures. But for the enterprise and carrier markets it looks like tough times ahead.
"Not surprisingly the COVID-19 pandemic caused delays in enterprise Wi-Fi deployments in 1Q 2020," Lynn stated. Short term that's going to continue, with offices still deserted, and carriers are also slowing deployments in favor of LTE for data.
The numbers from ABI largely affirm research from other analyst houses. In September, IDC forecasts fingered growth in the consumer market during Q2 of 2020 at 20.3 per cent. This coincided with declines in the enterprise WLAN market of 9.5 per cent, as businesses deferred or cancelled investments. ®
Similar topics
Broader topics