This article is more than 1 year old
Former antivirus baron John McAfee collared, faces extradition to America on tax evasion, securities allegations
He paid more or less than $750, though?
Two US government tentacles this week snared John McAfee, accusing the one-time antivirus mogul of tax evasion and breaking securities law.
The claims brought by the Department of Justice and stock-market regulator the SEC against the 74-year-old founder of McAfee – who has long-since departed the company – could potentially see the wannabe presidential candidate spend 30 years behind bars as well as experience financial ruin. McAfee was cuffed in Spain, and is awaiting extradition to the US.
McAfee is set to face trial on ten criminal charges of tax evasion and willful failure to file tax returns, brought by the Dept of Justice. He is separately being sued by the SEC after claiming to have made at least $23m in crypto-currency promotions and associated deals in violation of securities rules.
According to the Justice Dept's indictment [PDF] filed in a western Tennessee federal district court, McAfee failed to pay tax on money he made between the years 2014 and 2018. The government also said McAfee avoiding the gaze of tax inspectors by hiding assets, such as real estate and a yacht, typically by assigning ownership to other people.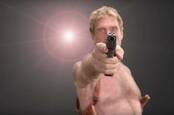 John McAfee 'goes underground' in motorcade to flee SEC
READ MORE
Prosecutors allege McAfee made tens of millions of dollars by using his massive Twitter following to talk up crypto-coin sales, and didn't give the IRS its cut. They also note he was making money from speaking and consulting fees, as well as selling the movie rights to his life story, and yet no taxes were filed as required by being a US citizen.
"John McAfee earned millions in income from promoting cryptocurrencies, consulting work, speaking engagements, and selling the rights to his life story for a documentary," prosecutors claimed. "From 2014 to 2018, McAfee allegedly failed to file tax returns, despite receiving considerable income from these sources."
If convicted, he could face up to five years in prison for the tax evasion counts, and up to one year for each of the five charges of willful failure to file a tax return.
Meanwhile, the SEC claimed [PDF] McAfee broke its rules by failing to disclose that he was making money from the crypto-coin offerings he was talking up.
In some cases it is said McAfee simply failed to tell his followers that he was secretly being paid to hype particular alt-coin sales, while in other cases it is said McAfee actually had a partial stake in the companies he was urging people to invest in, something he didn't tell netizens. In one instance, McAfee was talking up an initial coin offering (ICO) he was invested in while at the same time trying to sell off his own share, court documents claim. None of those was disclosed to McAfee's followers, it is alleged.
"From at least November 2017 through February 2018, McAfee leveraged his fame to make more than $23.1 million US Dollars in undisclosed compensation by recommending at least seven 'initial coin offerings' or ICOs to his Twitter followers," the SEC alleged in its lawsuit.
McAfee tells El Reg: 'My shootout with the police was highly exaggerated'
READ MORE
"The ICOs at issue involved the offer and sale of digital asset securities and McAfee's recommendations were materially false and misleading for several reasons."
Jimmy Watson, who provided personal security for McAfee, is also listed as a defendant in the complaint, submitted to a New York City federal district court. It is said he helped negotiate many of the deals on behalf of McAfee, pocketing more than $300,000 for himself in the process. As a civil action, the SEC legal action does not carry the threat of prison time, though if McAfee loses the case, he would stand to have tens of millions taken by the watchdog in fines and penalties.
McAfee, who had been living abroad and once fled Belize amid a probe into the death of a neighbor (he was never charged though was found liable in a civil court), has long been known for his hard-partying lifestyle and affinity for cryptocurrency, as well as his dislike for the US government. ®