This article is more than 1 year old
Was he sent on a spool's errand or something? Library staffer accused of stealing, reselling $1.3m of printer toner
Cops charge suspect with theft as audit claims this gear definitely wasn't on loan
A former public library employee is accused of stealing and reselling at least $1.3m worth of toner from his workplace over a 12-year period.
A city audit report [PDF] emitted this month alleged Randall Whited, a former accounting associate at the Austin Public Library in Texas, used his position and a fistful of city credit cards to buy up massive amounts of toner and then resell it.
The US city's watchdogs claimed Whited, who quit the organization last year for unrelated and unspecified issues, purchased toner on behalf of the library, and stored it in his garage until he was able to move it via an office supplies reseller website.
Between 2007 and 2019, Whited blew at least $1.5m on toner and other purchases, auditors alleged. They reckoned during that time, the library would have only needed to buy about 10 per cent of that – $150,000 worth – putting the estimated alleged fraud at more than $1.3m. The purchases were made using ten library-issued credit cards, two of them directly assigned to Whited, it is said.
The city said it had referred the matter to the cops. On September 22, Whited was collared, charged with theft, and booked into the Hays County Jail. His attorney Bill Hines yesterday told KXAN: "We are investigating the allegations and evaluating all options under these difficult circumstances."
Whited, it is claimed, would on occasion show up to work early and use his unsupervised time to take the toner out of the office to place in his car. He would also take toner cartridges claiming they were to be delivered to one of the other library branches, it is alleged, although these branches often reported running short on supplies.
On other occasions, he allegedly got a bit sloppy. It is claimed an investigation of Whited's work machine found he had kept a spreadsheet logging the illicit toner sales, perhaps like any good accountant would. "The spreadsheet indicated that over the course of just four days in October 2017, Whited sent sixty packages to the toner reseller," the audit report alleged.
It wasn't just toner: Whited was also found to be misusing his company credit cards to rack up $15,000 for other personal item purchases, it is claimed, such as goodies like video games, VR headsets, a robotic vacuum, and a drone. Some of these items were themselves resold by Whited, city officials said.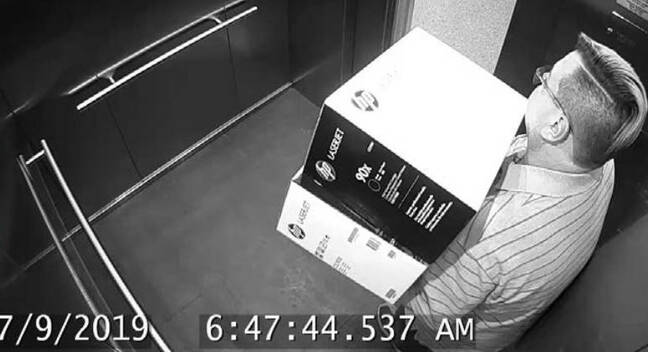 CCTV ... Randall Whited on camera carrying printer toner through his workplace. Source: Austin Public Library
The probe also delivered a scathing assessment of Whited's supervisors, who were criticized for failing to keep an eye on a worker who was, as alleged, managing to fleece them of a million-plus dollars of office supplies, paid for ultimately with taxpayers' money.
When he did provide paperwork, Whited would sometimes show doctored or intentionally vague purchase receipts that allowed him to conceal the purchases and shipping details, it is claimed. He also used a third-party purchasing firm which didn't include full product information and shipping details in the receipts.
"When interviewed, both Whited's supervisor and former financial manager said Whited told them itemized receipts — or receipts in general — were not available for some of his purchases, including toner purchased through the city's office supply vendor and electronics bought from a major retailer," the report noted.
"[The supervisors] said they did not follow up to determine if this was true, but [one] said that, in hindsight, they 'should have' followed up."
"Looks like I made a mistake," said one supervisor interviewed by the auditors, after being shown they had approved a $1,545 transaction on city plastic that had no product details and was shipped to Whited's home address.
Meanwhile, the library's director Roosevelt Weeks thanked the auditors for their probe, and said his organization will increase its monitoring and reduce the number of staff with access to purchasing cards, among other measures.
"We take fraud, waste, and abuse seriously, and while participating in the investigation we began taking immediate steps to address systemic deficiencies," Weeks said in a statement. "We have updated our purchasing operations and strengthened internal controls to eliminate opportunities for fraud and waste."
It's reported that Whited passed a criminal background check, and was hired in an accounting position, despite being repeatedly convicted of theft and burglary of a building in the 1980s and 1990s. ®