This article is more than 1 year old
It really is your last chance to see anything at Cineworld for quite some time, and this big-screen bork speaks volumes
Honey, I Misconfigured the Firewall
Bork!Bork!Bork! Displays come in all shapes and sizes. Portrait, landscape or, in the case of today's bork, a last-chance-to-see wraparound.
Spotted by Register reader Rob at a Cineworld branch in Ashton-under-Lyne, England, the display above the deserted concessions counter would normally serve up information or teasers for coming attractions.
With society having long passed the 200th day of March, those "coming attractions" seem further away than ever. Indeed, this might be the final glimpse of borkage in this chain of cinemas for quite a some time.
Having little more than a generic IMAX advert to show, and an uncertain future ahead, it looks like the poor thing has gone for a final, widescreen bork.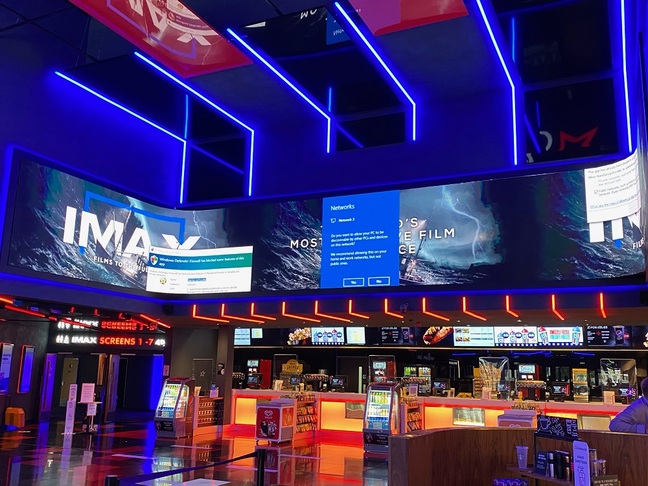 Or maybe some sort of restart has been attempted, with mixed results.
The PC in question looks to have been connected to a wired network, and the engineer responsible for setting things up is likely blissfully unaware that punters are being treated to a rare show alongside their regular programming.
Windows Defender is obscuring the all-important IMAX message with a warning that MarsServerProvider has been blocked, perhaps from a communication attempt with whatever is accessible on Network 3. The result is a screen full of bork above where once one might have queued to grumble about the price of popcorn or carbonated beverages.
MarsServerProvider itself is a bit of software associated (in this instance) with NovaStar, based in Xi'an, China, who lurk behind an awful lot of the world's LED display controls. Founded in 2008, the same year the company was chosen to provide the LED display tech for the Beijing Olympic Games, NovaStar's products also include cloud-based content publishing and management systems.
Oddly, the company's catalog [PDF] does not include the flinging of bork when services seek to go places that the Windows Firewall would prefer they did not.
Things aren't looking too good for the Cineworld chain at the moment. Bond has been booted to 2021, and other crowdpleasers have similarly been pushed back.
As such, those wishing to catch a showing of Borknado: The Final BSOD or family favourite Honey, I Misconfigured the Firewall would be advised to pay a visit before the lights are turned off from Friday. ®