This article is more than 1 year old
Death of the PC? Do me a favour, says Lenovo bigwig: 'I'm expecting the biggest growth in a decade... for 2021'
Exec adopts a build-and-they-will-come mentality
Canalys Forum 2020 Forecasting tech sales is a dark art at the best of times but in a pandemic it takes on a whole new level of complexity. Unperturbed, Lenovo's president and COO is predicting shipment growth not seen in a decade for 2021.
Gianfranco Lanci said the outbreak of the virus has "accelerated a remote revolution. Over the past several months we have seen the resurgence of PC sales. Talk of the PC dying and being taken over by tablets and smartphones are over.
"I believe we are on track for a nearly 300 million total PC market in 2021, that is about 20-30 million of additional growth. This volume is significant, we haven't seen a number like this in over ten years. The total PC installed base in growing, the refresh will be quicker. I believe we will continue to see demand in 12 to 18 months as people continue to work from home."
I believe we are on track for a nearly 300 million total PC market in 2021, that is about 20-30 million of additional growth
IDC disagrees: it expects sales to be in the black this year, but is anticipating a return to decline by next year.
Lanci, who was appearing at the virtual Canalys Forum 2020 via webcast, said notebooks for education, prosumer portables, and subscription services for things like desktop-as-a-service are all booming. So too are larger displays, webcams, mice, and keyboards. The same stuff that's been flying out of the doors since lockdown began in March.
Armed with a KPMG survey of 315 CEOs that says 69 per cent of them will be "downsizing office space", Lanci claimed "the days of face-to-face collaboration and business travel will not recover for another two years."
Dell said in August that it anticipates 60 per cent of its staff not ever returning to the office on a regular basis. Fujitsu is closing half of its office real estate in Japan and will equip people to work from home or regional hubs. The Institute of Directors this week agreed there will be no mass walk-in once COVID-19 clears.
Lenovo told us the refresh cycle was contributing to demand, in addition to the work-from-home movement. It said the forecasts made by its executive were based on its "reading of the market" by "staying close to end customers" and talking frequently to the resellers that sell its kit.
"I think it's a challenging time to make forecasts," Fiona O'Brien, chief channel officer and head of operations EMEA, told The Reg. "And it has, of course, implications in the supply chain because what you forecast now has implications on what is available for you to sell and to ship for the next six to nine months… our bet is that that demand will continue to be high."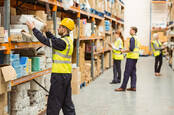 Everything must go! Distributors clear shelves of ALL notebooks in Q2, even ones gathering dust over last 12 months
READ MORE
Supply chain disruptions caused by factory closures earlier in the year resulted in a shortage of components and therefore PCs. The problem was exacerbated by a spike in demand.
Lenovo, like all other PC makers, wasn't immune to this and still isn't. O'Brien acknowledged "industry shortages on the PC side" and said entry-level consumer laptops including Chromebooks were a "symptom of the shift".
With this in mind, Lenovo last week confirmed plans to open a new in-house manufacturing facility in Hungary by spring, building desktop, workstations, and data centre gear, but not laptops (where the pressure has been felt most acutely).
"That will help us even better serve our European customers, particularly for those who require a very fast response and delivery within the European context," O'Brien said.
Now Lenovo just has to make sure it has enough components – chips and panels – to keep up with the demand it is expecting. Easier said than done. ®