This article is more than 1 year old
Microsoft: After we said we'll try to promote more Black people, the US govt accused us of discrimination
Dept of Labor demands proof Windows giant isn't making 'illegal race-based decisions' in diversity push
After Microsoft vowed to double its number of Black and African American bosses and senior staffers, the US government challenged the policy as potentially racist, it was revealed Tuesday.
The Windows giant went public to say it received a letter last week from the Department of Labor accusing it of possible illegal discrimination in trying to diversify the upper echelons of its workforce.
As Redmond's general counsel Dev Stahlkopf put it, the department suggested "Microsoft's commitment to double the number of Black and African American people managers, senior individual contributors and senior leaders in our US workforce by 2025 could constitute unlawful discrimination on the basis of race, which would violate Title VII of the Civil Rights Act."
That diversity program was set out by CEO Satya Nadella in June, and involves spending $150m on programs to, among other things, make Microsoft a more inclusive and diverse place to work, and to develop internal talent and promote people to leadership roles who may otherwise be overlooked. According to Microsoft's employment stats for 2019 [PDF], the vast majority of its managers, directors, and executives are White men.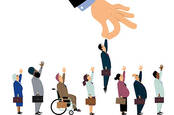 Microsoft forks out $3m in back pay settlement to make Feds' hiring discrimination probe go away
READ MORE
The Dept of Labor's Office of Federal Contract Compliance Programs took exception to this diversity drive, and in its missive to Microsoft wrote that the policy "appears to imply that employment action may be taken on the basis of race." In effect, President Trump's government is accusing Microsoft of putting people of color unfairly ahead of White staffers, and wants assurances this isn't happening. "The letter asked us to prove that the actions we are taking to improve opportunities are not illegal race-based decisions," said Stahlkopf.
Microsoft, in its defense, said it strives to further its employees regardless of their race, and that it tries to ensure everyone gets a fair crack at moving up the ladder. It's not hard to see that the diversity push, as described, tries to make sure certain folks aren't left behind, left out, or unfairly passed over, rather than prefer one race over another. Stahlkopf also reminded us that, as a government contractor, Microsoft is required to diversify its workforce as per Uncle Sam's own policies.
"We are clear that the law prohibits us from discriminating on the basis of race," she said.
"We also have affirmative obligations as a company that serves the federal government to continue to increase the diversity of our workforce, and we take those obligations very seriously. We have decades of experience and know full well how to appropriately create opportunities for people without taking away opportunities from others. Furthermore, we know that we need to focus on creating more opportunity, including through specific programs designed to cast a wide net for talent for whom we can provide careers with Microsoft.
One thing remains true of all our programs. We hire and promote the most qualified person
"One thing remains true of all our programs. We hire and promote the most qualified person. And nothing we announced in June changes that. Instead, our continued focus is to work hard to consider and develop the broadest range of qualified candidates for opportunities."
Stahlkopf also said Microsoft will respond to the office's letter, and, if necessary, defend itself in court. She went on to list a number of Microsoft initiatives aimed at bolstering its diversity, including increasing funding for STEM education, recruiting at historically Black colleges and universities, and opening offices in economically depressed areas.
For what it's worth, a letter from the compliance office carries a fair amount of weight, as the watchdog oversees companies contracted to do work for Uncle Sam, such as Microsoft, and it can prevent corporations from landing lucrative supply deals with three-letter-acronym organizations and other government bodies.
We've asked the Department of Labor for its reaction to Microsoft's web missive.
Redmond said it revealed the nature of the compliance office's letter "in a spirit of transparency," whereas it's likely the software giant was fed up sparring with bureaucrats. Just a few weeks ago, Microsoft agreed to cough up $3m in back pay to settle allegations, with the usual caveat of no admission of wrongdoing, raised by the Dept of Labor that it illegally discriminated against people of color in its hiring practices between 2012 and 2014. ®