This article is more than 1 year old
Yes, it's down again: Microsoft's Office 365 takes yet another mid-week tumble, Azure also unwell
Come back, Word 97, all is forgiven
Updated Microsoft says it is figuring out why its cloud-based unproductivity suite Office 365 is down yet again for unlucky subscribers. The knackered platform knocked over Teams, Exchange Online, SharePoint Online, OneDrive for Business, and more.
The Windows giant has little in the way of details at the moment. The outage started around 1100 PT (1800 UTC) and is ongoing.
"Users may see impact to Microsoft Teams, Exchange Online, Outlook.com, and SharePoint Online/OneDrive for Business," punters are being told. "We've received reports of user impact to Microsoft 365 services and are working to investigate the cause of the issue."
We note that Microsoft's Azure cloud is also throwing a wobbly, and it's highly likely the two disruptions are connected. This time, Azure says the collapse for some users is due to a networking gremlin:
Starting at approximately 18:20 UTC on 07 Oct 2020, a subset of customers are experiencing connectivity issues due to an ongoing networking issue. This issue only appears to be impacting Azure customers in North America and Azure Government. A number of other services are reporting downstream impact. We have identified a potential cause and are investigating possible mitigation options. Next update will be provided in 30 minutes or as events warrant.
The upshot is users may struggle to connect to or use Azure Active Directory globally – leaving them unable to reach things like the Admin Portal – nor rely on Azure network infrastructure in the US, and that this gaffe is causing things like Office 365 to fall over, it appears.
Monitoring site DownDetector clearly shows something is amiss, judging by complaints from users, with its heat map illustrating breakdowns in service throughout America. In the 15 minutes to 1137 PT alone, some 22,000 gripes were reported.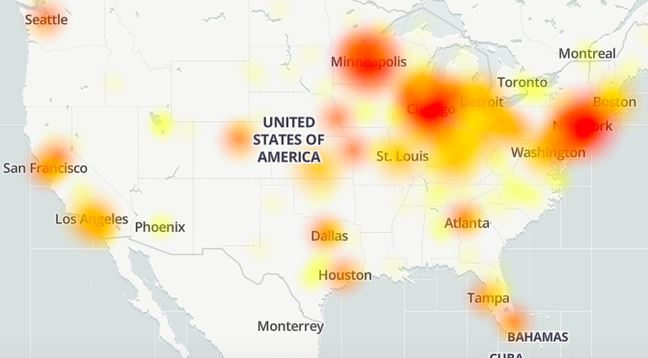 Red marks the spot ... DownDetector.com's map showing where people are complaining about Office 365 et al being down
As users on Twitter have noted, the outages are starting to pile up for Office 358 and Azure, and it is definitely becoming an issue for folks. Various services on those two platforms were at least partially inaccessible for one reason or another twice last week, for instance. The Azure Active Directory breakdown that time was due to a bug, dubbed "a latent defect," in Microsoft's code that pushed a broken internal update straight into production, which then also blocked people from logging into Office 365.
Okay.

I love me some Office 365.

But https://t.co/nkIn2e6dgq is showing another MAJOR outage for Teams, Outlook, SharePoint, and OneDrive.

This is like, three weeks in a row with major outages.

Slow your roll for just a bit.@MSFT365Status

— WolfStar76 (@WolfStar76) October 7, 2020
This may be a good time to note that Microsoft is planning to deliver an offline-capable version of Office toward the end of next year.
So far there is no word when the outages will be remedied. More on the story as it develops. ®
Updated to add
More than four hours after the outage kicked off, Microsoft says it online services are back to normal except Outlook.com and Office 365's Admin center, which are still said to be recovering. The Windows titan said the root cause of the downtime was "a change to network infrastructure" that broke something "within Microsoft 365 services."