This article is more than 1 year old
Wisepay 'outage' is actually the school meal payments biz trying to stop an intruder from stealing customer card details
We pulled entire website to halt attack, says spokesman
UK cashless school payments firm Wisepay has pulled its website offline after spotting a miscreant trying to spoof its card payment page.
The Hampshire-based company, which bills itself as "allowing parents and guardians to make cashless payments to their [children's] school or college", said its website was "down for maintenance".
Reg reader Jon told us: "Their website has been down since Sunday, replaced with a 'down for maintenance' notice since Monday morning, meaning that pupil accounts cannot be topped up for lunches, or items that the school sells cannot be purchased."
Another reader added that parents were concerned about the downtime, saying it was a "bit worrying considering this is the way most parents pay for school meals/trips etc."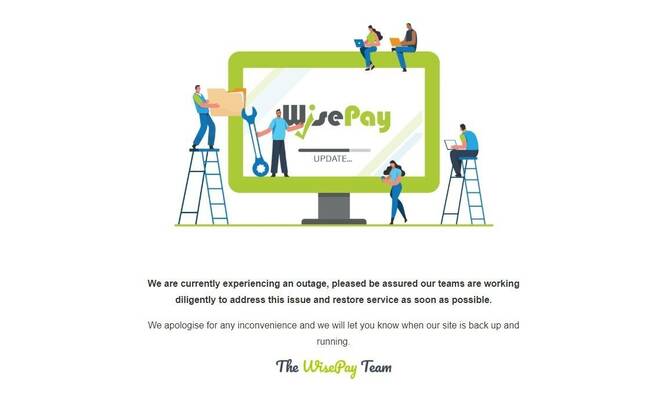 In reality the "outage" was a preemptive move to stop the unidentified attacker from continuing with a "URL manipulation" attempt, as a Wisepay spokesman explained it. He went on to say that the miscreant was "spoofing the Sagepay page to capture card details", saying that Wisepay itself merely provides a "gateway for parents" and doesn't hold card information itself.
The company said it has informed the UK Information Commissioner's Office and is working with a "cyber forensic agency" to investigate further. It promised the website would be back online "between 4 and 5pm" today.
Wisepay customer Monk's Walk School, a secondary in Hertfordshire, told parents in a Facebook post earlier today: "As a precautionary measure we suggest that if you tried to use Wisepay between the 2nd and 5th of October, you should take sensible precautions such as checking your online banking for suspicious activity."
The school added, somewhat acidly: "On a practical level we are investigating alternative payment methods so that you can continue to make payments for your son or daughter."
The cashless payments service is used by schools and colleges across the UK, and was acquired in 2017 by Community Brands UK Holdings Ltd, which has other educational tech brands in its stable, including "classroom behaviour management system" BehaviourWatch, Teachers2Parents communications software, and educational software Edusoft.
While cyber attacks targeting schools are not unheard of (the National Cyber Security Centre warned institutions to sort out their security earlier this year), it seems that the age-old tactic of targeting supply chains has spread to the educational sector too. ®