"BlackBerry has always been known for our strong strategy," chief exec John Chen told the BlackBerry Security Summit earlier this week – just as a well-read investment blog concluded that "without a meaningful shift, this company (and stock) will probably keep on struggling".
Chen's words came at the opening of the summit, where the Canadian one-time handset behemoth tried to position itself (and its Cylance acquisition) as a serious contender in the global infosec market.
The firm wheeled out Gartner research director Rob Smith, who informed us that "all users are not equal". This was followed by pulling the sheets off its Unified Endpoint Security Solution for AI-powered Cybersecurity, claiming it "delivers security and Zero Trust with a zero touch end-user experience through a single console and offers the end-to-end solution with the broadest set of AI-based security capabilities and visibility across mobile, desktop, apps and people."
The new platform combines telemetry data from endpoints, user analytics, and servers on your IT estate, using those to defend against everything from run-of-the-mill malware to crypto-jacking, insider threats, compromised user credentials, stepping on Lego, and getting into an unusually cold bed at night (some of these may not be true).
Cute, now show me the money
While Blackberry was boasting about all of that, the Seeking Alpha investment blog was poring over its most recent quarterly financials. Gio Danisi complained that Cylance's performance had been buried in the main group results rather than broken out, as it was in previous reporting periods, nonetheless writing:
"In Q1, the company reported Software & Service revenue at $156m (Non-GAAP), while in Q2, it was at $158m. A year ago, this revenue segment (called IoT and BlackBerry Cylance) totaled $185m. It's minus 15 per cent year-on-year: not a cause for celebration!"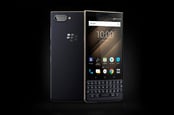 The BlackBerry may be dead, but others are lining up to take its place
READ MORE
Danisi also wondered aloud whether BlackBerry's bumper quarter in licensing was a one-off, and if the company would be able to repeat that result and sustain its growth. A fellow Seeking Alpha writer acidly opined the same day that it "appears that this recent quarter's performance was a flash in the pan and that the rest of its fiscal year is expected to deliver shareholders with negative results."
Otherwise the rest of BlackBerry's Security Summit had comparatively little to attract the public eye. A product launch is par for the course at these things, so the all-singing all-dancing UESS was in some ways fully expected.
While the company did reveal research about a hitherto unidentified hacker crew it called Bahamut, briefing only selected members of the press about that, threat intelligence research is only one way in which a company builds credibility on cybersecurity.
In the UK market, BlackBerry has resorted to High Court action to prevent at least one senior salesman from jumping ship – an unusual but far-from-rare occurrence. Perhaps BlackBerry needs to focus more on resurrecting its handsets. ®
Similar topics