NHS England offers £15m to AI firms for software that helps with stroke victims' treatment as COVID-19 stretches service
Raising inevitable concerns over protection of patient data
---
NHS England is tendering for AI technologies in deals worth up to £15m to help guide the treatment of stroke victims while the health service groans under the strain of coronavirus.
According to a tender document published this week, NHS Shared Business Services is creating a supplier framework for AI software that supports stroke treatment.
The aim is to "provide AI solutions that support the analysis of medical imaging for... strokes and to support clinicians [to] diagnose and treat strokes faster and more reliably," the tender said.
Strokes are caused by poor blood supply to the brain, either from a haemorrhage or a lack of blood flow, which can be fatal or in the long term cause loss of cognitive function and physical disabilities.
The tender notice argued that if the stroke is analysed early using medical imaging, it is possible for clinicians to significantly improve outcomes for patients. "This saves lives and improves people's quality of life. However, getting these treatment decisions wrong can lead to further strokes and disability for patients."
The £15m framework is designed to provide AI solutions that support "the analysis of medical imaging for ischaemic or haemorrhagic strokes and to support clinicians diagnose and treat strokes faster and more reliably."
It would "provide a simple, effective, efficient and compliant route to purchase/supply the range of Stroke AI products and services for both NHS Customers and suppliers through means of either direct call-off or further competition if required."
In May, the NHS Executive said that using AI to assist in stroke treatment could help improve care of these patients given the demands of the COVID-19 pandemic on the service. Senior medics had said patients were putting off seeking necessary treatment when they need it because of worries over coronavirus.
"Across the NHS, AI solutions are being rolled out to support clinical decision making on life-changing treatments including mechanical thrombectomy, a procedure which can prevent long-term disability and enable more people to be independent after a stroke," it said.
"The new AI tool allows doctors to view patient scans remotely on an app and make better and faster decisions on the right treatment options for their patients."
But critics have long argued that the NHS should be wary of providing patient data to private AI companies to train clinical machine learning models which they could then monetise.
A deal between London's Royal Free NHS Foundation Trust and Google's DeepMind failed to comply with the UK's Data Protection Act when data on 1.6 million patients was handed to the global search giant's AI biz.
In the journal Health and Technology, legal researcher Dr Julia Powles wrote: "It was only after an independent journalistic investigation revealed the necessary information – seven months after DeepMind and Royal Free first entered into a data sharing agreement, five months after the data had been transferred into DeepMind's control and during which product development and testing had commenced, and two months after the project had been publicly announced – that any public conversation occurred about the nature, extent and limits of the Deep Mind-Royal Free data transfer."
Those with concerns about private-sector AI in the NHS will hardly be reassured by this latest procurement, which is being conducted by NHS Shared Business Services, itself a joint venture between the Department of Health and Sopra Steria. That's the same company that was accused of profiteering by the Immigration Law Practitioners' Association in its £91m contract with the Home Office for a visa service dogged with delays and described as not fit for purpose.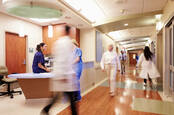 Latest NHS IT revolution is failing to learn lessons from the last £10bn car crash
READ MORE
Then there is the question of whether an AI can actually provide effective assistance to doctors in stroke diagnosis and treatment. A paper in the British Medical Journal has argued that long-term success depends on good integration with NHS data systems.
"Once an AI system gets deployed after initial training with historical data, continuation of the data supply becomes a crucial issue for further development and improvement of the system. Current healthcare environment does not provide incentives for sharing data on the system," the US-based study found.
With the National Audit Office still critical of the NHS's approach to adopting integrated digital technologies, it would be reasonable to question whether inviting AI companies into the NHS raises the prospect of them monetising patient data, without the NHS having the systems and processes in place to reap the long-term rewards. ®