This article is more than 1 year old
It's in their DNA: Nobel Prize in chemistry goes to pioneers of the CRISPR gene-editing tool
Emmanuelle Charpentier, Jennifer Doudna will split $1m+ winnings
Two biochemistry professors who led the groundbreaking development of CRISPR, the controversial "genetic scissors" DNA-editing tool, have been awarded the Nobel Prize in chemistry.
"There is enormous power in this genetic tool, which affects us all. It has not only revolutionised basic science, but also resulted in innovative crops and will lead to ground-breaking new medical treatments," said Claes Gustafsson, chair of the Nobel Committee for Chemistry, on Wednesday.
Emmanuelle Charpentier, 51, founder of the Max Planck Unit for the Science of Pathogens in Germany, and Jennifer Doudna, 56, the Li Ka Shing Chancellor's Professor in Biomedical and Health at the University of California, Berkeley, will split the ten million Swedish kronor (£866,000 or $1.12m) prize money.
In 2011, the pair collaborated to show that it was possible to cut out DNA sequences, and insert new ones, using the Cas9 protein taken from a defense mechanism used by bacteria to fight viruses.
CRISPR has been applied to edit genes in various organisms, including plants, insects, and animals. For example, a separate team of scientists used CRISPR to get rid of a gene called FREP1 from Anopheles gambiae mosquitoes known to transmit malaria.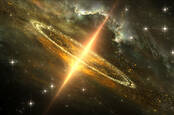 Massive news, literally: Three super-boffins awarded Nobel Prize in physics for their black-hole breakthroughs
READ MORE
"What started as a curiosity‐driven, fundamental discovery project has now become the breakthrough strategy used by countless researchers working to help improve the human condition," Doudna said.
"I encourage continued support of fundamental science as well as public discourse about the ethical uses and responsible regulation of CRISPR technology."
"I am overwhelmed and deeply honoured to receive a prize of such high distinction and look forward to video-celebrating this exceptional award with my team members, colleagues, family and friends," added Charpentier.
"My special thoughts go to my former lab members – especially Elitza Deltcheva and Krzysztof Chylinski – who have contributed significantly to the deciphering of the CRISPR-Cas9 mechanism in bacteria and my colleagues of the field of CRISPR biology. This award obviously underlines the importance and relevance of fundamental research in the field of microbiology."
Using CRISPR on humans, meanwhile, is a topic that divides the scientific community. Although it could prevent genetic diseases by cutting away unwanted genetic mutations, the ethics of using embryos for experiments is questionable.
In 2018, He Jiankui, who was a biophysics professor at the Southern University of Science and Technology in China at the time, claimed to have produced the world's first genetically modified twins. He said he used CRISPR to see whether it was possible to create HIV-resistant babies. Those experiments were later deemed illegal, and he was fired from his position at the university and sentenced to three years behind bars. ®