This article is more than 1 year old
All it took was a global pandemic confining millions to their homes to remind businesses how much they appreciate the IT crowd
No, not the TV show, as great as it is. You, silly!
Canalys Forum 2020 There are lies, damn lies, and tech vendor surveys, but the latest from hyperconverged specialist Nutanix might raise a wry smile. It turns out IT is important after all.
In the Enterprise Cloud Index (ECI) 2020 report, 76 per cent of respondents said the pandemic has forced businesses to "view their IT organisations more strategically than ever."
"Over the last few years that wasn't necessarily the case, there was this counterculture move away where lines of business would control more of their own destiny to consume IT services," Nutanix CMO Ben Gibson said in a webcast for the Canalys Channel Forum EMEA, an altogether more virtual affair this year.
This was, for example, John and Susan in marketing grabbing hold of the corporate credit card with wild abandon and then putting a call into a cloud vendor to buy a service that would subsequently fall on their colleagues in IT to manage and ensure it worked for their organisation.
Looking at the results of the cloud vendors so far this year, those services are clearly still in demand, but it's just that Nutanix reckons the dynamics thawed following the coronavirus outbreak.
"What's happened certainly with this pandemic, and the resulting disaggregation of the workforce and workplace facilities and new applications and the like, is that there's been a rediscovery of the criticality of IT organisations," said Gibson.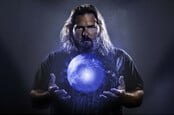 Death of the PC? Do me a favour, says Lenovo bigwig: 'I'm expecting the biggest growth in a decade... for 2021'
READ MORE
Anwar Dahab, EMEA senior veep for channel at Dell Technologies, agreed: "This period has been the confirmation that what we do matters. IT .... delivered essential products, services and solutions, in the current environment."
In her own webcast, Sandy Hogan, senior veep of the worldwide partner and commercial organisation at VMware, said customers are using tech to speed up their ability to operate in a pandemic.
"The response to the crisis has resulted in one of the largest mass proof-of-concept exercises for digital transformation ever taken," she said.
Other findings in Nutanix's ECI is that 86 per cent of respondents are mulling a hybrid cloud environment as their "ideal operating model", which isn't particularly surprising because most businesses realise cost and speed are reasons not to go belt and braces into the cloud.
...there is still a lot of innovation and services that need to be brought to bear here to make this a reality
CIOs, however, still want to talk about the challenges of going hybrid, such as making the lifting and shifting of applications less arduous and avoiding "application rewrites and the like," said Gibson.
"So hybrid cloud, the right cloud with the right cost model, the right governance and controls is really the ultimate goal of more and more customers," he said, "but there is still a lot of innovation and services that need to be brought to bear here to make this a reality."
And that leads on to the last point: 96 per cent of respondents said that managing applications and data across both on-premises and in the cloud is a pain in the butt. Again, not something new to Reg readers.
There you have it, people – you are captains of the world, queens and kings of industry. A survey says so. We've asked Nutanix how many respondents it had but have yet to hear back. It's busy telling anyone who will listen how important technology is, and forgot to turn on its phone. ®