This article is more than 1 year old
Welp, it is the season for silicon mega-mergers... AMD rumored to be in advanced talks to buy FPGA slinger Xilinx for $30bn+
Let the chips fall where they may
AMD is said to be in advanced talks to buy Xilinx in a deal set to top $30bn.
The acquisition could be confirmed as early as next week, the Wall Street Journal reported on Thursday night.
The newspaper cited "people familiar with the matter," which is typically code for someone at or near the top of AMD or Xilinx confirming the negotiations are underway. We're warned it's not a done deal, though: merger discussions between the pair stalled previously and only lately restarted, it is reported.
AMD is riding high at the moment, using its Zen CPU architecture in Ryzen and Epyc microprocessors for PCs and servers, respectively, as well producing graphics cards for various systems and parts for games consoles. Just hours ago, it launched its third-generation Zen chips primarily for gaming rigs. Its shares are up 90 per cent from the start of the year to about $86 apiece, valuing the Silicon Valley giant at more than $100bn, as people snap up computers powered by its chips to work from home amid the coronavirus pandemic.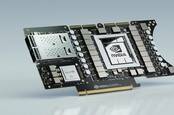 Meet the 'DPU' – accelerated network cards designed to go where CPUs and GPUs can't be bothered
READ MORE
Xilinx, meanwhile, designs FPGAs, which contain circuitry that can be configured pretty much as and when needed to perform specific tasks in hardware or accelerate data processing. These components can range from modest parts acting as logic glue in equipment, all the way up to beefy units that pack in Arm CPU cores, vector and signal math coprocessors, network interfaces, and plenty more besides. It even designs silicon brains for spacecraft.
This rumored acquisition deal comes at a time when consolidation is ongoing in the semiconductor world, most notably with Nvidia trying to absorb Arm for $40bn.
AMD's arch-rival Intel bought FPGA biz Altera for $17bn in 2015, and Omnitek last year; AMD may want to gobble up Xilinx and get on Chipzilla's level.
We imagine AMD might also be interested in producing hardware that has not only fixed acceleration engines but also customizable elements that Xilinx could provide and join them up with CPU and GPU cores to speed up particular workloads. On the other hand, Intel hasn't really done much at all with Altera, and Xilinx similarly might be left feeling like a gooseberry on AMD's CPU-GPU roadmap.
A spokesperson for Xilinx told us: "We don't comment on rumors and speculation." Spokespeople for AMD were not available for immediate comment. ®