This article is more than 1 year old
Google contractor HCL America accused of retaliating against unionized techies by shifting US jobs to Poland
Pittsburgh workforce erosion, punitive policies cited in labor complaint
The US National Labor Relations Board has bundled a series of complaints alleging labor law violations against IT services firm HCL America (HCL Technologies), which supplies contract workers like data analysts to a Google office in Pittsburgh, into a case to be heard in February.
The NLRB complaint [PDF] is a consolidation of cases brought by aggrieved temps after approximately 90 HCL tech contractors agreed to unionize in September, 2019. The contractors joined the United Steelworkers union to negotiate as a group, as allowed by law, for better working conditions and wages.
The complaint alleges that HCL America transferred work done by its unionized employees to Krakow, Poland, and limited their ability to participate in training.
"Most egregiously, HCL has been eroding its Pittsburgh workforce by brazenly moving work done here to its facility in Krakow, Poland, to retaliate against workers for exercising their right to choose union representation," said Josh Borden, a member of the union's negotiating committee, in a statement. "Management would rather break the law than negotiate in good faith for a fair contract."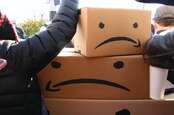 Amazon says it fired a guy for breaking pandemic rules. Same guy who organized a staff protest over a lack of coronavirus protection
READ MORE
The complaint further claims that HCL punitively implemented various rule changes affecting workers, such as a "prohibition on wearing beads, hats, and other hair accessories," and policy changes that placed conditions on work breaks, vacations, bereavement, medical leave, and other workplace rules.
These changes, it's alleged, were put in place "because the Unit employees formed, joined and assisted the Union and engaged in concerted activities, and to discourage employees from engaging in these activities."
Though Google contracts with HCL America, it is not named in the complaint. Google did not immediately respond to a request for comment. The search biz last year hired IRI Consultants, a firm known for its work to discourage unionization.
Unionization efforts have been relatively scarce in the technology sector, and have been actively opposed by companies like Amazon. The labor-supported Economic Policy Institute last year published a report stating that US employers spend $340m annually on "union avoidance."
A rare effort that succeeded, the 2014 unionization of Lionbridge Technologies temp workers who did bug testing for Microsoft, was eventually undone when Lionbrige eliminated their jobs two years later. The union's NLRB complaint dragged on so long the pay-deprived bug hunters had already settled by the time Microsoft's objection to their effort to investigate alleged union busting had been denied.
With the union membership rate at an all-time low of 10.3 per cent in 2019 since the US Bureau of Labor Statistics began keeping track in 1983, interest in collective labor action appears to be ready to rise now, thanks to the uncertain economic climate, corporate waffling on the moral implications of technology, and increasingly visible employee activism, among other issues.
Workers at JavaScript library biz NPM, Inc, now a part of GitHub, tried to unionize last year, only to be fired.
In December, 2019, some 40 San Francisco-based workers at Ford-owned scooter startup Spin unionized, In February, 2020, a group of Instacart employees in Chicago did the same. Around the same time, Kickstarter employees unionized.
In March, employees at app platform Glitch voted to unionize. And three Spotify-owned companies – Gimlet Media, The Ringer, and Parcast – have seen employees join unions.
HCL Technologies also did not respond to a request for comment. ®