This article is more than 1 year old
What's that, Lt Lassie? Three terrorists have fallen down a well? Strap on these AR goggles and we'll find 'em
US military sticks techno-specs on crack canines in command experiment
The US Army will give military dogs augmented-reality goggles and walkie-talkies to work out whether the technology can help them better assist soldiers on the battlefield.
Canines from the Navy Special Forces will don specially fitted funky-looking techno-specs designed to guide them to a location by making indicators appear in their vision. The experiment is part of a project devised by Command Sight, a Seattle-based startup that received funding through Uncle Sam's Small Business Innovation Research program.
"Augmented reality works differently for dogs than for humans," said Stephen Lee, a senior scientist at the US Army Research Office, this week.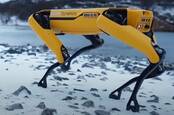 Meet the dog that's all byte and no bark: Boston Dynamics touts robo-pooch Spot with $75k-a-pop price tag
READ MORE
"AR will be used to provide dogs with commands and cues; it's not for the dog to interact with it like a human does. This new technology offers us a critical tool to better communicate with military working dogs."
Handlers typically communicate with their hounds using hand signals, thus the animals need to be within sight. Using laser pointers to give commands grants the dogs more freedom to roam around though they still need to be near their instructors. The US Army hopes the use of AR goggles and a walkie-talkie will allow soldiers to maintain communication with dogs over much longer distances.
A camera on the dog's body will allow soldiers to observe what the animals are seeing. They will be able to guide the canines to a particular location by sending instructions through the AR goggles, and coaxing them with audio commands projected through the walkie-talkie. That way, the soldiers can remain out of sight and protected while the dogs, for instance, sniff for explosives or hazardous chemicals.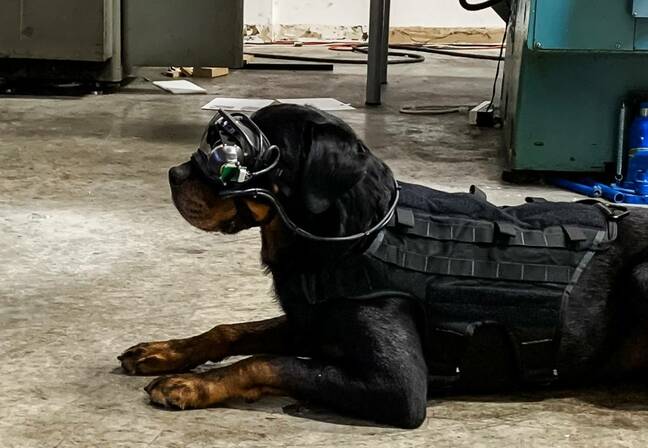 Rin-Tin-Tin for the new era ... The AR goggles in question. Credit: Command Sight. Click to enlarge
"We are still in the beginning research stages of applying this technology to dogs, but the results from our initial research are extremely promising," said AJ Peper, founder and CEO of Command Sight.
"Much of the research to date has been conducted with my rottweiler, Mater. His ability to generalize from other training to working through the AR goggles has been incredible. We still have a way to go from a basic science and development perspective before it will be ready for the wear and tear our military dogs will place on the units."
The prototype goggles require wires, which restricts the dogs' movement. During the testing stage, they will be kept on a leash and their behavior will be monitored. Command Sight researchers will spend the next two years working to make their product wireless before they can be manufactured and sold to the US Army. ®