This article is more than 1 year old
Remember the days when signs were signs and operating systems didn't need constant patching?
The signage may be borked, but the Swedish meatballs are steaming
Bork!Bork!Bork! Windows 10 likes an update. Goodness me it likes an update, as any user who has found a workday cruelly interrupted while the operating system treats itself to a jolly good patching can confirm.
Sometimes, however, things can go wrong. Particularly when one has some connected signage and failed to either configure policies to stop an unwanted update or allowed sufficient space for Microsoft's finest to do its thing.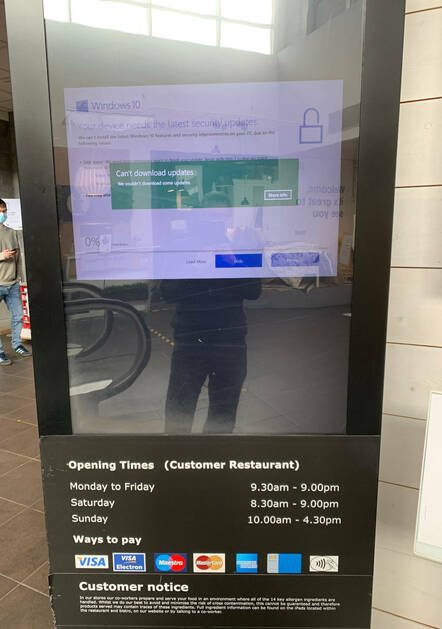 Click to enlarge
The offender today is IKEA in the English town of Warrington, on the banks of the River Mersey. The Swedish DIY furniture warehouse reopened its doors back in June to say a socially distanced "hej" to customers.
Register reader Stewart Knight paid a visit over the recent bank holiday, before the town was slapped with extra coronavirus restrictions. He found that, while the store was well secured in terms of scandi-stock, Windows was feeling a little insecure.
Alas, although the device was pleading to be allowed a little more disk space in which to stash the all-important patches flung out by Microsoft, our reader could do little to help, other than snap a picture. Would you want to paw at a public screen in the hope it might respond to touch nowadays? Us neither. In terms of infection potential, you might as well lick an orange-hued US reality TV star-turned-politician.
Still, while Windows was demonstrably unhappy, the good, old fashioned, printed text below indicated that Saturdays permitted more than 12 hours of meatball delight at the in-store restaurant.
A reminder, perhaps, that something tangible and real can be better than the moving target that is Windows between patch Tuesdays. After all, how much disk space does a jumped-up sign really need? ®