BBK mixed-grill realness: Realme's pair of 7s are two more reasons not to spend over £300 on a smartphone
Not a steak, but if you're going midrange there's enough to chew on
Review You get a lot of phone for less than £300 these days. Just look at the Realme 7 and 7 Pro, which recently splashed down in Europe. These devices are the OPPO sister brand's latest bid for the middle-tier mobile market. They don't push any envelopes, but they are excellent value for money.
El Reg got its talons on both models and swiftly put them through their paces. Despite the similarity in naming, the phones couldn't be more different. Let's start with the non-Pro flavour.
Look after the pennies…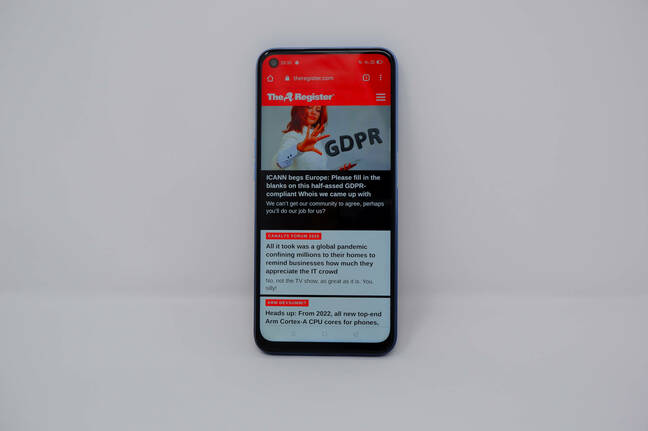 The Realme 7 is the cheapest of the two, with a starting price of £179, and has no delusions of grandeur. Everything about it screams: "I know my station."
Plastic? You betcha. The Realme 7 feels like what would happen if you gave a Ken doll a lithium-ion enema. It's remarkably heavy too, with a chunkiness more befitting of an old Russian novel than a phone. While the backplate is superficially attractive from a distance, you can't help but feel that the Realme 7 is dated and inexpensive. You just have to hold it.
But looks aren't everything, and the Realme 7 is deceptively capable, as though someone shoved a Vauxhall Corsa engine in a Dacia Sandero. At the heart of the device is a MediaTek Helio G95 platform.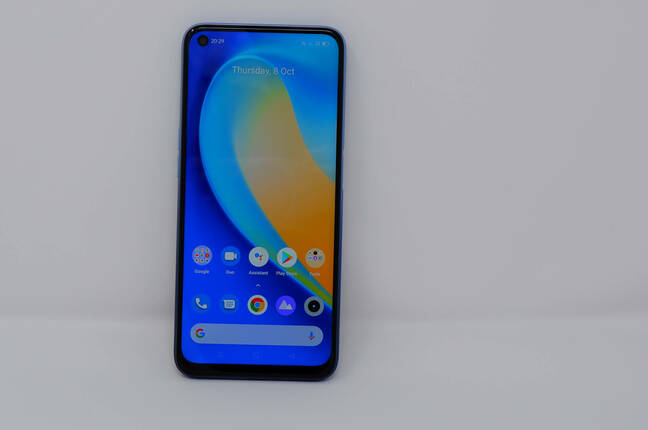 MediaTek chips – and particularly the Helio line – have a reputation for playing second-fiddle to Qualcomm. The G95, announced last month, doesn't quite fit that reputation. Routine day-to-day performance was solid. Apps loaded with the pitch of a League One striker, while there was little perceptible lag in webpage rendering. It could even handle a few bouts of Call of Duty: Warzone.
The phones comes with 6GB or 8GB of LPDDR4X RAM and has 64GB and 128GB UFS 2.1 flavours, with the option to add a Micro SD card.
To Realme's credit, you don't have to choose between extra storage or a secondary SIM card. The device has room for two nano-SIMs and a memory card. That's a nice touch. So too is the inclusion of a 3.5mm headphone jack, USB-C, and a physical fingerprint reader, which sits mounted on the side of the device. There's also NFC, which is a regular casualty of the quest to make cheaper devices.
The 6.5-inch display is somewhat of a mixed bag. It gets points for supporting a 90Hz refresh rate, which makes UI animations feel buttery, but loses points for using a relatively weak LCD panel, which doesn't feel especially bright or vibrant, and has subpar viewing angles.
The battery is rated at 5,000mAh, with support for 30W fast charging. That's another thing you can't take for granted on a phone at this price point. Plugged into the mains, you can get a full charge in roughly an hour. That more than makes up for the absence of inductive wireless charging.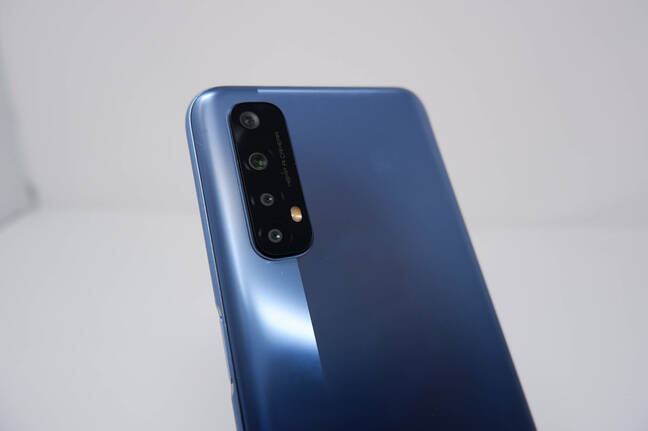 The camera is solid albeit unspectacular. The primary sensor is – you guessed it – a 48MP Sony IMX586. This comes with an 8MP ultra-wide-angle lens, 2MP macro, and 2MP depth sensor. The lack of a telephoto lens or optical image stabilisation (OIS) hurts the Realme 7's versatility, but you wouldn't necessarily expect to see those features on a device in this price point.
Day-to-day photography has decent clarity and low-light performance is also surprisingly good. That said, don't expect the Realme 7 to win you a Hasselblad award.
You're a Pro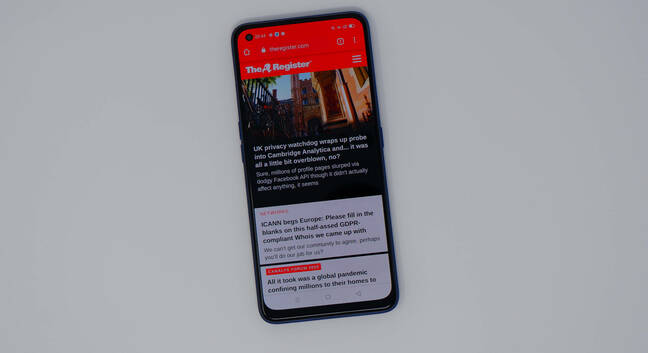 The "pro" variant retails at £279, and is a testament to the phrase: "Less is more." With this device, Realme has opted to go for less splashy specs, but overall better components.
Take the display, for example. This uses a standard 60Hz refresh rate. While this sounds like a downgrade from the non-Pro flavour, it actually isn't. Realme opted to use a Super AMOLED panel here, and the contrast in image quality is night and day. Viewing angles are better, and colours overall feel richer and more defined.
The Realme 7 Pro also packs dual speakers, rather than the single mono blaster found on its cheaper sibling. These are surprisingly powerful, and make all the difference when vegging out with some Netflix.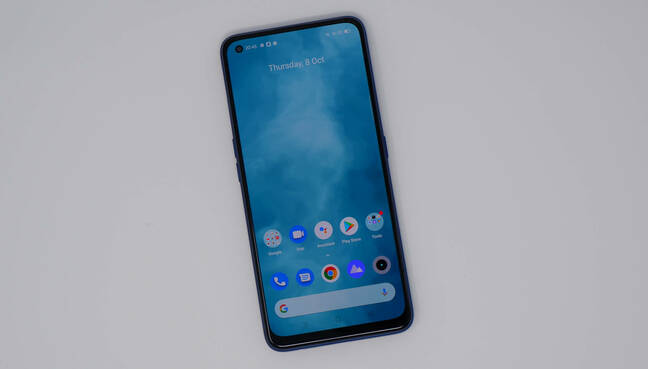 Then there's the battery. At 4,500mAh it's slightly smaller than the one found on the Realme 7, though still respectable. On the other hand, there's support for 65W fast charging – similar to that found on the OPPO Reno 4 Pro 5G. Plug it into the mains with a compatible charger and it can go from zero to 100 per cent in just over half an hour.
Buried in the display is a fingerprint reader. These are typically hit-and-miss, with many lacking the responsiveness and accuracy of a physical reader, but I was largely impressed with the unit that shipped with the Realme 7 Pro. We also have few complaints about the phone's facial authentication, which happily unlocked my phone during those times I don't have a cloth mask draped over my face."
The processor isn't the newest on the market. It uses the Snapdragon 720G chipset, which was out in January. And there's no 5G either. The base (and only) storage configuration is 128GB of UFS 2.1, although you can expand this with a Micro SD slot. On the memory front, punters get a choice of either 6GB or 8GB LPDDR4x RAM.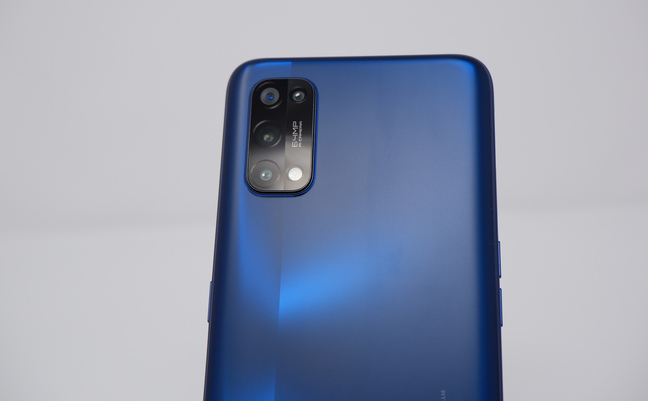 The camera specs see a modest bump, with the primary sensor upgraded to a 64MP Sony IMX682. This is accompanied by an 8MP ultra-wide-angle lens, a 2MP macro, and a 2MP depth sensor. Quality is serviceable, and your Instagram feed won't hate you, but again, don't expect to win any prizes.
Cheap ain't bad
The Realme 7 and 7 Pro are both solid devices for their category. If you're not too fussed about having 5G or wireless charging, and you don't need the fastest chips on the market, neither of these phones will disappoint you. They're solid, satisfying, and unpretentious: the mobile equivalent of a Wetherspoons mixed grill [really? - ed.]
This is washed down with a refreshing pint of fast charging, which surpasses some of the flagship devices that have crossed our desks. Let's be clear: 65W fast charging on a sub-£500 phone is remarkable.
Realme also deserves props for the careful way in which it cut corners. It avoided the temptation to ditch genuinely useful components, like NFC or the humble 3.5mm headphone jack.
The entry-level model feels better suited for the casual user. The 90Hz refresh rate lends itself well to gaming, but doesn't really have the most apparent day-to-day work applications. On the flip side, the nakedly superior Super AMOLED display on the Realme 7 Pro makes consuming visual content and web browsing more enjoyable.
That said, we'd be remiss not to mention other phones in the price neighbourhood that are worth considering. For a hair more, you can get your hands on the excellent all-rounder Motorola Moto G 5G Plus. There's also the stalwart OnePlus Nord, which is similarly 5G capable.
It's also worth mentioning that Realme is a relative newcomer to the European mobile space, and remains somewhat of an unknown quantity when it comes to long-term software support. Neither of these phones belong to the Android One programme. If you're planning on getting one of these as a work device, this is a point certainly worth considering. ®