This article is more than 1 year old
Amazon-like megacorps dominating various online sectors could become norm for pandemic-stricken planet
Certain business models work better than others when most people avoid human contact
Shifts in consumer behaviour could see a handful of companies come to dominate the online food, education and leisure industries, as Amazon has in e-commerce, according to research.
A study [PDF] by the UK's Royal Society for Arts, Manufactures and Commerce (RSA) suggests that the "winner takes most" dynamic that gives the Seattle giant an unfair advantage could be accelerated by the pandemic and spread to other sectors as the drive for digital services increases.
The RSA pointed out that Amazon's retail sales have increased by 42 per cent between April and June. Streaming services such as Netflix are also benefiting from the pandemic, having reported a record 15.8 million additional subscribers globally in the first quarter of 2020.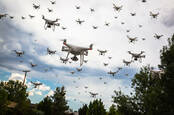 We want weaponised urban drones flying through your house, says UK defence ministry as it waves a fistful of banknotes
READ MORE
In July Amazon posted its biggest profit in its 26-year history due in no small part to online sales and its business supporting third-party merchants increasing during the coronavirus pandemic. Online store sales jumped 48 per cent to $45.9bn in the second quarter.
The RSA said the concentration of power in the market was down to the fact that "firms with the greatest number of customers can collect the largest troves of data, which in turn enables them to provide a better service, attract more customers and harvest even more data."
In Amazon's case, it "has a huge advantage over the other businesses that use its marketplace. Since this process also allows Amazon to collect data on the products they sell, this can then be used to develop and market its own AmazonBasics range more effectively.
"Amazon can then nudge consumers towards its own products by selling them at a marginally more favourable price point," the RSA said, citing legal scholar Lina Khan.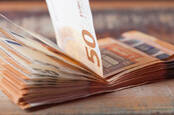 Euro Commish probes Amazon's marketplace, worries Bezos' beast is sniffing 'competitively sensitive' seller data
READ MORE
The think tank argued that these dynamics could play out more frequently in other industries, including food, education and leisure, which have seen an accelerated shift to online services during the pandemic.
Amazon could also benefit from another pandemic trend of consumers seeking as little human contact as possible to reduce the risk of infection, even when out and about. Amazon is due to open its first cashier-less convenience store in the UK by the end of the year, with around 30 more planned to follow.
Meanwhile, Bezos' behemoth is also planning to sell its cashier-less shop concept, Just Walk Out, to other retailers.
In another sign of how human distancing might affect work, fast-food chain McDonald's is said to be testing AI-enabled, voice-activated drive-thru restaurants in Chicago based on a device from Miso Robotics which operates at a cost of $3 per hour.
But the report balances the surge in interest in automation with a note of caution. As the recession hits business spending, organisations are becoming more wary of AI.
"Firms might also exhibit risk averse behaviour concerning investment in new technologies, particularly as the hype around artificial intelligence appears to be dwindling," the RSA said.
Organisations uncertain about their investments in machine learning might look instead for "relatively cheap, retrofit solutions that are easier to deploy" or "robotics as a service" which does not require so much upfront investment. ®