This article is more than 1 year old
It's that time of the year when Apple convinces you last year's iPhones weren't quite magical enough, so buy this new 5G iPhone 12 instead
Small and large models with 5nm system-on-chip touted
Apple on Tuesday wheeled out its iPhone 12 range featuring a more powerful system-on-chip, harder glass, sharper displays, and 5G.
The latest additions are split in two: the iPhone 12 and iPhone 12 Mini, and the iPhone Pro and iPhone Max. The iPhone 12 Mini reverses the trend of ever-larger phones and heads back toward iPhone 8 size with a 5.4-inch display. At the other end is the iPhone 12 Pro Max with a 6.7-inch screen. Apple says the iPhone 12 is 11 per cent thinner and 16 per cent lighter than today's iPhone 11. And its new "super retina XDR" OLED screen offers a 460ppi resolution, slightly higher than other smartphones on the market.
They all are powered by Apple's homegrown TSMC-fabricated 5nm 64-bit Arm-compatible A14 system-on-chip that the iGiant claims will run 50 per cent faster and give 50 per cent speedier graphics than the previous generation. Most of the value of that will be in slightly better photos, thanks to improved cameras and more processing power, with Apple claiming low-light photos should be significantly better.
There are no wireless EarPods included, nor the headphone jack, nor a power adapter; a USB-C to Lightning cable is included. Storage capacity starts at 64GB for the non-Pro and 128GB for the Pro versions – you lose 11GB to 14GB of that on bundled apps and operating system files, depending on which apps you choose to remove.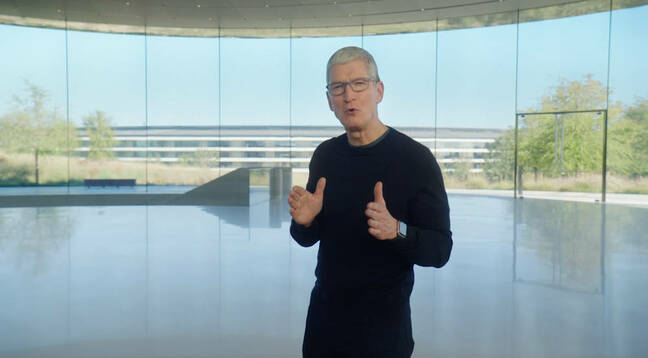 I'm Tim Cook and I'm here to say, iPhone's getting better in every way. Source: Apple livestream. Click to enlarge
The Pro range adds an extra camera and a LiDAR depth-sensing sensor that will probably make its way into non-Pro iPhones next year when Apple finally launches its augmented reality (AR) service. All four phone models are rated IP68, meaning they can last up to 30 minutes under no more than six metres of water.
Apple is pushing for serious photographers and even videographers to consider its Pro range for their work. It may tip the balance with the addition of a file format that holds the raw, lossless pixel data as well as Apple's image processing and corrections as layers that can be selected as needed and applied to the underlying original. This means you can work on the raw pixels, adjusting the color or dynamic range as you wish, and bring some, or all or none, of Apple's enhancements. It's like RAW, which Android and normal cameras produce, but with Apple's suggested and optional layers of tweaks to give you a head start in editing. It will put out an API so photography software can work with this so-called ProRAW format, we're told.
The video system, which will now record in Dolby Vision and 4K, is impressive and edges the iPhone 12 Pro Max, which starts at $1,099, into a prosumer video device.
Drop proof?
Of interest to the average consumer will be the new toughened glass called "ceramic shield" that Apple describes, somewhat vaguely, as providing "four times better drop performance." Does that mean you can ditch the extra screen protector with the iPhone 12? Let's wait to see the inevitable YouTuber tests.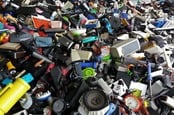 Apple seeks damages from recycling firm that didn't damage its devices: 100,000 iThings 'resold' rather than broken up as expected
READ MORE
Another improvement that may push people into buying the new phone rather than sticking with what they have is Apple's "MagSafe" system seen on the Apple Watch that will allow cases and chargers to stick magnetically to the phone. That could be a plus for people that charge their phones wirelessly and are sick of having to get the phone in exactly the right place on the charger.
Apple appears to have abandoned its long-awaited effort to produce a charging mat for multiple devices, and gone with a MagSafe charger, sold separately, that splits in two to charge two devices at the same time – an iPhone 12 and an Apple Watch, for instance.
The iPhone 12 range is also, of course, Apple's first 5G range. The launch carefully skirted around the realities of 5G networks at the moment, although it is possible that by the time the iPhone 13 is launched that 5G networks are real for most people, rather than network operator hype. Models sold in the US can use mmWave frequencies, and it's sub-6GHz for the rest of the world.
Somewhat bizarrely, the real-world 5G use-case pushed by Verizon's CEO, who made a guest appearance, was to watch an American football game from multiple angles on a phone while in the actual stadium as the game was being played.
Aside from the fact that we are still some way from packing stadiums thanks to the pandemic, the idea that you have to go to specific places to get actual 5G, and then the benefit will be to stare at a tiny screen when the actual game can be viewed with your own eyes, demonstrates that 5G is still some way off. Don't buy the iPhone 12 just for 5G.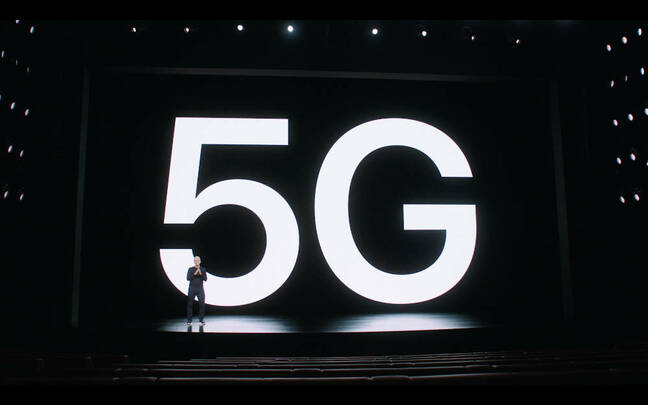 The future is 5! Source: Apple livestream. Click to enlarge
So the big question: upgrade? Sure, if you have an iPhone 8 or older, this will be a significant improvement. Beyond that, it is incremental. The big shift will likely be the iPhone 13 when Apple uses its depth-of-field tech in interesting ways and 5G is a reality.
The iPhone 12 Mini starts at $699; the iPhone 12 at $799; the Pro at $999 and Pro Max at $1,099 – basically the same price points as the last range. We note those base prices are if you use AT&T and Verizon; YMMV depending on your carrier. The iPhone 12 can be ordered starting on October 16, and will ship from October 23; the iPhone 12 mini can be ordered from November 6, and ship from November 13.
Smart home eco-system lock-in
Apple also announced a new smart speaker with digital assistant: the HomePod Mini for $99. It follows the exact same path as Amazon and Google in trying to lock you into its ecosystem. It looks good and includes all the latest features that similar products do like multiple voice recognition, smart home features and a few additional things that will only work if you have other Apple devices.
Why go Apple rather than Google or Alexa? Two reasons: one, you already have a lot of Apple products in your house; and two, you are creeped out by Google and Amazon's data collection. Apple provides slightly improved privacy by not associating your recordings with you specifically and, of course, it doesn't have an entire business model behind data gathering like its rivals do.
At the same time, however, Apple's control freakery means that you may not be able to get your preferred streaming music service on the HomePod. CEO Tim Cook said that Amazon Music and Pandora would be available at some point soon but no mention of Spotify, Tidal, Deezer etc. And why would you when you can have Apple Music? Also you'd have to deal with Siri, which is still playing catch-up to other digital assistant services.
Finally, Apple introduced an Intercom feature, like Alexa's Announce, which lets people talk to each other through their HomePod speakers. ®