This article is more than 1 year old
Contract to run .eu domain-name registry is up for grabs as Brussels tries to avoid a .co-style debacle
Five-year deal to oversee 3.6 million web addresses ... but does anyone actually want it?
The European Union has opened up the .eu internet registry for a new owner, offering a five-year contract to oversee its 3.6 million domain names from October 2022.
The EC's Directorate General for Communication Networks, Content and Technologies announced the rebid last week and its director of future networks, Pearse O'Donohue, has been pushing the issue to the DNS industry – including personally contacting registry operators to encourage them to apply.
It is just the latest in a series of rebids for major internet address spaces in recent years – several of which have been shrouded in claims of corruption, backroom deals and legal threats, including Colombia's .co, India's .in and Australia's .au domains.
In the worst example, Colombia's technology minister was accused of cutting a secret deal with US corporation Afilias ahead of its retender: an accusation that gained credence when the Colombian government's own documents contained unexplained references to a different Afilias contract.
The government's documents also showed it has used the wrong registration figures for its own internet space and had skewed the process to favor Afilias. Afilias ended up withdrawing from the bid and the contract was re-awarded to US-based Neustar.
Exclusion
The EC has tried to avoid similar controversy by insisting all applicants be non-profit organizations based in Europe: criteria that appears designed to prevent Afilias and Neustar from applying.
But the criteria will also exclude pretty much everyone else in the relatively small registry market, unless those companies decide to set up non-profit subsidiaries in Europe solely to bid for the contract.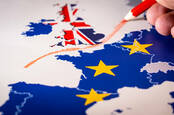 Barmy ban on businesses, Brits based in Blighty bearing or buying .eu domains is back: Cut-off date is Jan 1, 2021
READ MORE
In addition, a key component of the .eu contract will be multilingualism, which would disadvantage the dominant English-speaking players in the registry market, including .uk operator Nominet and two UK-based registry operators, Centralnic and Minds+Machines.
Any operator would also have to deal with the EC's growing tendency to interfere with the .eu registry, imposing top-down decisions with little or no discussion. That became a headache for current operator EURid last year when Brussels bureaucrats decided that, due to Brexit, all .eu domains attached to UK-based registrants would be terminated when the UK exited the European Union.
The decision was seemingly intended as a kind of punishment on the UK government but caused a lengthy series of policy back-and-forths as EURid tried to turn a diktat that went against industry best practice into workable policy. The registry lost millions of domains and saw its reputation damaged as a result.
Interference
There is also the fact that registry operators tend to be left alone to run things so long as there are no technical problems, but with .eu, the EC has repeatedly added new reporting requirements, making registry operation just one more piece of the Brussels bureaucracy.
The rebid criteria also insist on EU-style governance structures. "The Contractor shall ensure that its internal governance respects the principles of efficiency, effectiveness, accountability, transparency and responsiveness," reads just one part of the tendering documents. So that probably rules out Nominet.
Unusually, the main driver for the rebid doesn't appear to be an effort to force the current operator, EURid, to offer lower prices: the .eu registry's €12.6m annual revenue is a drop in the bucket of the EU's vast budget.
Instead, the .eu registry is viewed more as a prestige project for the European Union. "The purpose of the .eu TLD is to help enhance the Union identity and promote Union values online, such as multilingualism, respect for users' privacy and security, respect for human rights, as well as specific Union priorities in the digital area," the tendering document proudly states.
The normal assumption would be that EURid as the operator that has been running .eu since its inception 15 years ago would be will win the rebid but the EC has been unusually critical of EURid in recent months and even its marketing of the .eu rebid implies it is looking to move away from EURid: "The competition to become the next .eu TLD registry is now open." Industry insiders wonder why the word "next."
Given its complex requirements and tendency to over-involve itself in the registry's operation, however, the EC may find that despite its active efforts to give the contract to someone else, the only company willing to put up with its demands is current operator EURid. ®