This article is more than 1 year old
Oh! What a lovely lockdown: Lenovo enjoys soaraway sales for Q3 2020 as PC shipments jump – Dell, not so much
HP is top dog stateside
Research org Gartner has chimed in with earlier reports from Canalys that, yup, the PC industry is enjoying a bonzer pandemic, even if Dell is a bit in the doldrums.
Things are looking up for PC makers as worldwide shipments reached 71.4 million units in the third quarter of 2020, 3.6 per cent up from 2019's figures and the strongest consumer PC demand Gartner had seen in five years.
This was driven by the needs of home entertainment and remote learning during the pandemic, with the bump in sales sending supply chains for items such as display panels, just recovered from the effects of the pandemic, into a tizzy.
However, as has become the norm over recent years, growth in mobile PC sales was a little offset by steep declines in desktop computers.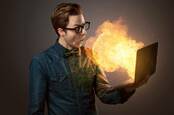 Laptops are on fire! In a good way (if you're selling). PC sales race to highest growth rate since 2011
READ MORE
As for the winners and losers, Lenovo was top of the heap globally, according to Gartner, cracking the 18 million unit mark and claiming over 25 per cent of the worldwide market. While Lenovo enjoyed a solid 8.3 per cent growth (thanks in part to demand in China), second-placed HP's shipments were nearly flat with 0.7 per cent growth, and Dell saw a decline of 4.6 per cent to a hair under 11 million units for Q3 2020 compared to Q3 2019.
Dell saw a slightly smaller decline in the Canalys rankings, and the vendor itself told The Reg last night that:
The share loss can be attributed to Dell's smaller mix of low-cost PCs and Chromebooks relative to other vendors, so we did not benefit as much from back-to-school consumer purchases. Much of the Q3 industry PC shipment growth occurred in lower cost consumer PCs for virtual learning.
As for Gartner, it chalked up Dell's decline to a focus on business PCs as well as a steep decline in desktop sales (despite rising mobile PC shipments). Weaker economies in developed nations, it reckoned, meant business buyers were a little cautious and more focused on optimising costs. Business spending where government funding or remote working was concerned did, however, remain strong.
The US market saw double-digit growth for the first time in a decade, a 29 per cent increase in portables offset by declining desktops. HP was top dog stateside, nabbing 30.8 per cent of shipments, with Dell second at 25 per cent. Lenovo was third with 15.3 per cent. All three enjoyed strong growth compared to the same period last year.
EMEA remained relatively flat with just a 0.4 per cent growth, while Asia Pacific saw 3.3 per cent growth year-on-year. Interestingly, Greater China also saw strong growth as it emerged from the pandemic and delayed procurement resumed, hinting at rosier times ahead in other parts of the world.
These figures did not include iPads or Chromebooks. Gartner did note, however, that the latter saw explosive growth year-on-year with shipments jumping 90 per cent. The devices represented 11 per cent of the combined PC/Chromebook market. Companies behind the big three vendors, such as Apple and Acer, also saw decent growth year-on-year.
Gartner put Apple in a solid fourth position both worldwide and in the US. Cupertino enjoyed a 7.7 per cent market share (with 5.5 million units shipped, up 7.3 per cent) in America and 14.5 per cent share (2.4 million units shipped, up 7 per cent) globally.
Best not tell the fanbois that the researchers count Microsoft's Surfaces but not Apple's iPads in their figures. ®