Virginia voter registration website falls over hours before deadline. The Russians? No, a broken fiber line
Cable damaged during sewer installation? Now that's a sh** storm
---
Virginia's voter registration website fell offline close to the sign-up deadline this week – after fiber-optic cabling was damaged.
Construction workers on Route 10, a highway that runs through Chesterfield County, "inadvertently" wrecked an underground Verizon cable on Monday, cutting off access to the website. Disaster struck near the Commonwealth Enterprise Solutions Center, the headquarters of the Virginia Information Technologies Agency (VITA), which provides IT services to local government websites.
"Data circuits and virtual private network (VPN) connectivity for multiple Commonwealth agencies" were broken as a result, VITA said on Tuesday morning in a statement. "Technicians continue to work diligently on a resolution. The team has learned that the fiber was inadvertently struck as part of activities associated with a roadside utilities project."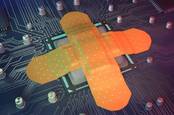 The seven deadly sins letting hackers hijack America's govt networks: These unpatched bugs leave systems open
READ MORE
While some may jump to the conclusion there was a conspiracy to prevent citizens from signing up to vote in next month's US elections, in reality it appears to be a typical telecommunications infrastructure blunder – and a reminder of how fragile our internet truly is at times. Especially when data centers rely on a single fiber cable.
In any case, the line was fixed earlier today. "Chesterfield County, Virginia Information Technologies Agency (VITA), and Verizon worked together to repair an unmarked underground utility line that was inadvertently struck during work on a county sewer installation project, located off Route 10 in Chester, Virginia," a spokesperson for the county told The Reg.
"According to VITA, the line was repaired and service was restored around 3:30 p.m. today. The sewer installation project has been ongoing since May 2020 and is expected to be completed by April 2021."
And lo, Virginia's Department of Elections web portal is up and running again hours before the deadline to register online to vote – which is 2359 ET (2059 PT, 0359 UTC).
"Thank you everyone for your patience! The citizen portal is back up, you can go to register to vote, update information or check your registration status," the department said.
Verizon earlier told The Register it was working with county officials to fix the damage and get the website online again. "We're working with VITA to restore connectivity to the data center as quickly as possible," a spokesperson told us just before the downtime ended.
Justin Fairfax, Lieutenant Governor of Virginia, called for an extension of the deadline hours before connectivity was resolved.
I am officially calling for Virginia's Registration Deadline to be extended beyond today due to the service outages impacting voters' ability to register statewide.

We will work with the Administration to resolve this issue and ensure all voters have access to #Vote. https://t.co/PKt3vKoOnu

— Justin Fairfax (@LGJustinFairfax) October 13, 2020
Other government sites, such as Virginia's DMV, Department of Health, and Employment Commission, are also back up, too. ®