This article is more than 1 year old
'20,000-plus staff' could face the chop in spin-off of IBM's IT outsourcing biz, says Wall Street analyst
Good news for Big Blue's market cap, not so much for its workers
Analysis IBM will push through a major restructure at the IT outsourcing business it's spinning off, with 20,000 or more staffers facing the chop, an analyst estimated.
The Global Technology Services (GTS) division, minus a few elements, will be carved out into a separate public company. For now it's called NewCo, though IBM CEO Arvind Krishna said in a conference call with stock-market analysts last week, when the deal was announced, that a new name will be sought.
After the spin-off, which is expected to be finalised before the end of 2021, IBM will consist of: its Cloud and Cognitive software divisions; its Global Business Services consultancy; its Systems and Global Financing wings; and support services, which includes the Technical Support Business residing in GTS.
The NewCo – with a $60bn services backlog, 4,600 clients including 75 per cent of the Fortune 100, a reach into 115 countries, and for now 90,000 staff – will "build on its core strengths, managing complex and mission critical infrastructures," said the CEO.
The exec-level spin on the company being spun out is that it will be good for everyone involved: customers, investors, and employees.
Maniacal
For IBM, the conscious uncoupling means it will be "maniacally focused on being the best hybrid cloud platform and AI company leveraging a leading open platform, our incumbency and our expertise to help clients with their digital transformations," said Krishna.
And for GTS? "As a standalone company, NewCo management will be able to build a more efficient operating model focused on service delivery excellence. NewCo will have greater agility to invest in the next-generation transformational infrastructure services," he added.
GTS, also referred to by IBM as managed-infrastructure services, provides outsourcing services and includes a unit called Information Technology Services that does project work for clients "mostly on their on-premises infrastructure," Big Blue said. GTS also provides services involving hosting, networks, storage, data management, devices and IoT management.
Krishna said he expects IBM to "take a $2.3bn structural action in the fourth quarter." Chief financial officer Jim Kavanaugh said it is doing this to "reposition both companies."
"This ($2.3bn charge) is really centred around positioning NewCo to have a solid EBITA growth profile moving forward and address stranded costs, and also to enable significant financial flexibility to enable reinvestment back into our company [IBM] to accelerate that growth profile," said the CFO.
Toni Sacconaghi, a Wall Street analyst on the call, described the spin-off as "essentially growth through subtraction," implying IBM is getting a GTS-shaped weight off its back. The division has declined due to the impact of the cloud on big ticket outsourcing and the area has been subjected to annual redundancies since 2016, the most recent round starting in March.
... a free pass on more restructuring, which we estimate could be 20,000-plus positions
Sacconaghi, of analyst house Bernstein, said in a note to investors that IBM's split creates a "free pass on more restructuring – which we estimate could be 20,000-plus positions. That said, it appears that the restructuring charge will largely be focused on right-sizing and boosting margin at NewCo and eliminating stranded costs at IBM, with the majority of savings being 'reinvested' in remaining IBM."
Those 20,000 staffers would be about 6 per cent of IBM's 350,000-plus-strong workforce.
Krishna told analysts on the conference call that it was all about the money: "Our investment will be concentrated in areas that create value for our clients: hybrid cloud, data and AI, security and emerging technologies like quantum. The end game is accelerated growth. With the growth mindset going all in on hybrid cloud and AI and increased investments, we expect to drive sustainable, mid single digit revenue growth over the medium term."
The chief exec said IBM will also invest in business partnerships and in ways to bring those businesses to its hybrid IT platform. He added:
"The economics of a platform approach are compelling. Every dollar spent on the platform creates additional value above and below. A lot of investor focus is on the infrastructure providers. They do generate $1 to $2 for every dollar spent on the platform. But a lot of value is generated above the platform layer: another $3 to $5 is spent on software, and another $6 to $8 on the cloud services. This of course is shared by IBM and our ecosystem partners so everyone wins, helping to lift all boats."
Krishna said Big Blue has no plans for further significant restructuring, and tried to justify why IBM is retaining the elements it is:
Our integrated value proposition says I want to take advantage of the incumbency of clients running mission critical workloads. Our mainframe and software portfolio is where they tend to do that. We then take advantage of the hybrid cloud platform to take them from where they are, to where they want to go. Many of them need help on that journey and hence our GBS portfolio helps our clients along that journey. I think that is why those pieces stay together.
Last year IBM bought Red Hat, containerized its software, and launched Cloud Paks to sell more of its vast but fragmented software portfolio as a service. As of June 2020, IBM said it has 2,400 clients using its hybrid cloud platform, tripling in the past 24 months.
"Linux is the de facto operating system standard and market share leader. Red Hat Linux, along with containers and Kubernetes, provides the architectural foundation. OpenShift is our core product that captures the values and works through the entire range of clients," said Krishna.
"IBM's middleware portfolio has been containerised. Our family of cloud paks extends capabilities with cloud ready open software packages integrated on OpenShift. This means clients can now deploy our software anywhere OpenShift runs."
Bernstein's Sacconaghi said that overall the analyst house was "modestly positive/incrementally hopeful that change is afoot" at Big Blue.
IBM wasn't focused on growing company-wide turnover during much of former CEO Ginni Rometty's tenure - from 2011 until 2019 she was partly paid on the growth of IBM's Strategic Imperatives (social, security, mobile, cloud and analytics) - and this was something that confounded the Wall Street analyst before.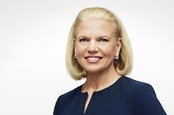 IBM's outgoing boss Rometty awarded $20m+ in 2019 for growing revenue 0.1%
READ MORE
Krishna made soothing noises about sustainable revenue growth, Sacconaghi acknowledged. IBM's revenues were $106.92bn in 2011 and $77.1bn in 2019.
But the response to the spin-off wasn't entirely positive.
Is this an IBM exercise in "financial engineering or value creation?" the analyst asked. "Cynically, one could argue that IBM's spinout simply represents financial engineering: IBM will boost its revenue and growth rate by spinning out IBM's negative growing, currently unprofitable ITO (IT outsourcing) business, and the company gets a free pass to do a significant restructuring which will materially impact free cash flow."
Sacconaghi added: "The alternative, more positive perspective is that such divestitures happen all the time in tech – HP, as was, saw a fair share of goings and goings under former CEO Meg Whitman – and IBM may be able to grow when unshackled from a unit that has been an anchor."
The jury is out on whether Whitman's period of control at HP was successful: each of the component parts that were spun out have and continue to face their fair share of challenges as standalone businesses.
"IBM will arguably be more focused, and more svelte at $60bn in revenues vs $80bn today," said Sacconaghi. He added: "Let us be clear. The ITO business today that IBM is spinning out is a no-growth, break-even business."
The Global Technology Services business generated $26.4bn in revenues over the past four quarters with operating margin of 6.5 per cent. This includes the Technical Support Business (TSB) which brought some $6.4bn in revenues and 30 per cent pre-tax income margins. TSB, however, is not being included in the operations moving to the NewCo.
"In essence, IBM is spinning out a declining, low/unprofitable asset, and taking a large charge to help reduce stranded costs, and boost the profitability of the resultant entities," Sacconaghi concluded. IBM's growth rate will rise by 100+ basis points following the spin-off, the analyst predicted. "We struggle to see NewCo growing," he said.
The proposed split will be effected by a pro-rata spin-off to IBM shareholders, and the move will be tax-free for US federal tax purposes, IBM confirmed last week.
A worrying factor for Wall Street, or at least for Bernstein, is that the ITO organisation helped drive $2bn to $2.5bn worth of hardware and software deals a year, he said, and there may be a "potential loss of account control."
"IT outsourcing deals – like high-end mainframe and UNIX hardware – are typically strategic in nature, and anchored at the highest level of client organisations and provide a vehicle for selling in high-margin software and hardware," the analysts added.
According to Forrester veep and principal analyst Ted Schadler, IBM had to "streamline the business" to focus its mind on "application and digital business transformation opportunities."
"Infrastructure services has been a declining-margin business for years. It's driven off a 'we'll run your mess for less' value proposition for CIOs seeking to get out of the infrastructure management business. The truth is there are big opportunities here to use automation and cloud migration to streamline the costs and capital requirements for infrastructure," he said.
Globally, around 25 per cent of workloads are expected to be running in the public cloud by the end of the year, said Krishna, with mission-critical work either on premises or in a private cloud.
So though IBM may be an also-ran in public cloud, it still has time to make its presence felt, with hybrid cloud spanning off and on-premises gear.
As for the NewCo? The CEO said the spin-off "affords us optionality and we can pivot to a sale if qualified buyers emerge." And to us, that seems to be what this whole exercise has been about. Getting shot of GTS. ®