This article is more than 1 year old
Elizabeth Holmes' plan to avoid her Theranos fraud trial worked out about as well as her useless blood-testing machines
What she in lacks in ethics, she more than makes up for in persistence
Theranos mastermind Elizabeth Holmes, who is accused of defrauding investors of her now-imploded blood-testing company, will face a jury after all: a judge just scrapped her final attempt to avoid prosecution.
On Tuesday, California judge Edward Davila rejected [PDF] the latest in a long series of efforts by Holmes and her former chief operating officer Ramesh "Sunny" Balwani to limit the US government's criminal fraud case against the pair. Uncle Sam indicted the duo in 2018, claiming they screwed over doctors and patients as well as investors, and piled on more charges as recently as May this year.
"Defendants have filed six motions to dismiss the second and third superseding indictments," the judge's order noted. "This omnibus order addresses them all."
Holmes' lawyers argued the government "unreasonably delayed" proceedings, arguing in large part that because the trial is now set for March 2021 when it was due to start in July this year, the criminal charges should be dropped so as not to violate Holmes' Sixth Amendment right to a speedy trial. The reason for the delay is, of course, the COVID-19 pandemic, and the judge threw out the plea for dismissal, pointing out the pair's legal teams had been willing to delay the trial in previous filings.
The defense attorneys at one point even argued the charges against Holmes were using the wrong definition of the word "investors," another claim the judge threw out, along with the others.
Holmes is accused of lying for years about the capabilities of the blood-testing machines her company Theranos manufactured. As CEO, she bragged that her equipment could produce accurate results incredibly fast from just a drop of blood. In truth, they just didn't work, and the startup secretly ran patients' tests on industry-standard lab gear and passed off the results as coming from their magical mythical machines.
Millions of test results had to be discarded as a result. Through endless self-promotion, however, Holmes had become a sci-tech-business celebrity, was featured in magazines and on TV, and was said to be personally worth an extraordinary $4.5bn (later revised to $0).
Implosion
The house of cards collapsed after an expose appeared in the Wall Street Journal, something Theranos and its PR team aggressively tried to kill. As the spotlight swung onto the business, it turned out the situation was worse than feared.
The startup lost its testing licenses and was shut down for good; Holmes was banned from running a medical lab; and America's financial watchdog claimed Holmes and Balwani – who had been in a relationship hidden from investors – had invented more than $100m in revenue that didn't actually exist in order to pull additional investment into the company.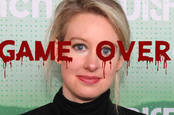 Bad blood: Theranos CEO charged with massive fraud
READ MORE
Not only that but, according to the SEC, "Theranos, Holmes, and Balwani claimed that Theranos' products were deployed by the US Department of Defense on the battlefield in Afghanistan and on medevac helicopters ... In truth, Theranos' technology was never deployed by the US Department of Defense."
It is those allegations that, in the Dept of Justice's view, crossed the line from business BS to outright fraud, and form the center of criminal charges brought against the pair.
Holmes' legal team has adopted an equally persistent and aggressive approach as Holmes did while pushing her useless technology, and have questioned every aspect of the case. They have had very little success, however, and the judge in the case is clearly tiring of their efforts.
That led to a desperate gambit in September when Holmes' lawyers claimed [PDF] she was mentally unfit and didn't know what she was doing during the lengthy period she misled investors, reporters, and conference attendees.
Mental
In a filing, Holmes' legal team said it would introduce evidence of a "mental disease or defect" that would have a "bearing on the issue of guilt." It said it would use testimony from psychologist Mindy Mechanic, who is based at California State University at Fullerton and who specializes in the psychosocial consequences of trauma with a focus on violence against women.
That effort was made public by the judge when he ruled in favor of the government's motion to also be allowed to carry out a psychiatric evaluation of Holmes if her defense was planning to use one. Holmes' legal team bitterly opposed that motion, and the judge brushed away those concerns, ordering that two experts chosen by the government be allowed to talk to the former chief exec for two days to ascertain her mental fitness.
Holmes and Balwani were charged with wire fraud and conspiracy to commit wire fraud, and face up to 20 years in prison each if convicted. They have pleaded not guilty to all charges. ®