When disruption comes along, you must Wipro it. Wipro it good, says outsourcing giant as it posts strong Q2
Outsourcing giant hires 13,000 and says it's doing well because customers are hustling to cut tech costs
India's services giant Wipro has posted a strong quarter of growth, ironically because many of its customers have accelerated projects designed to cut their technology costs.
Recently-installed CEO and MD Thierry Delaporte yesterday told investors the company recorded revenue of US$2.1 billion for the quarter ended September 30th, 2020, which was up 1.4 percent quarter-on-quarter and a dop of just 0.1 percent year-on-year. IT services revenue accounted for $1.99bn of the total haul, a jump of 3.7 percent. Net income hit $335.3m, down 3.4 percent year-on-year. Margin popped by 0.2 percent, to 19.2 percent.
Delaporte described that as an "excellent quarter".
"A large portion of our customers feel the need to accelerate digital transformation to stay relevant," he told investors on the company's earnings announcement conference call.
"In fact, I haven't had one single meeting with a CXO where we did not discuss about the need to accelerate this transformation, digital transformation of both, the front end to gain better access to market, to add an additional sales channel and on the backend also to improve efficiency and drive cost optimization. Modernization including cloud, automation, AI is really top tech priority."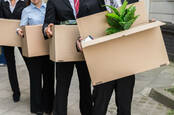 Forget about Wipro chairman saying no one would lose their job due to COVID-19: UK staff told they're facing redundancy
READ MORE
Delaporte said Wipro's pipeline has improved. "If we look at the demand environment, it has improved from Q1, no doubt. The intensity of sales activity continues to rise and the pipeline is robust. The overall pace of decision making has improved. Though, I find it still a bit slower for the larger ticket hunting deals."
Delaporte also used the earnings call to outline his five-point plan for growing Wipro, namely:
"Absolute growth focus" through ongoing investment in big accounts so that Wipro can "shape large transformation deals" in concert with top tech companies;
Focus on "markets and sectors that our relevant for us", with banking and insurance, consumer and retail, energy & utilities, plus healthcare on the list, and active consideration being given to other sectors;
Expanding the company's "presence beyond IT offers, structure of ethical solutions, leveraging our ecosystem of partners, both the large technology players and the start-ups";
Investing in "digital transformation architects, large program managers, technology experts… talent to reinforce innovation, business understanding, technology skills." Those hires will work under a "high performance structure to build the champions league of talent";
Simplification of our operating model to make it "agile and empowered at the edge, which means a leaner organization completely centred around our clients."
Those plans saw Wipro hire 13,000 staff in the quarter. But Delaporte said Wipro expects that as client demands change, so will the outsourcer's staff. While the company will fight to keep talent in high-demand areas, it's already seeing a demand shift from legacy-related deals to cloudier gigs and will continue to evolve its team and work practices to match client needs, while also suggesting it will emerge in a state that makes it uncommonly effective.
Modernization including cloud, automation, AI is really top tech priority
Overall, however, the new CEO was very upbeat. He predicted that SAP S/4HANA and other applications will boom, creating plenty of work for Wipro. And he had nothing to say about the COVID-19 pandemic representing an operational challenge. ®