This article is more than 1 year old
China watches 170,000 years' worth of short videos every day
Which goes a long way towards explaining why Tencent just engineered a mega-merger of streaming services
Chinese users of short video services consume an average 110 minutes of such content every day, according to a new report from industry group the China Netcasting Services Association.
The Association on Tuesday published its "2020 China Network Audiovisual Development Research Report" into the nation's use of online video. Some of the numbers are staggering: 901 million residents of the Middle Kingdom consume online audio-visual content, of which 818 million watch short videos, for 110 minutes a day.
Do the math: 818 million people times 110 minutes is just under 1.5 billion hours of video every day, or a lazy 171,000 years of video watching. Every day.
Chinese market research firm Daxue Consulting's April 2020 analysis of the nation's short video market offers an even larger audience number – 820 million – but a lower daily engagement figure of 45 minutes. Which still delivers 45,000 years of consumption every day.
China's number one time-waster source of short videos is Douyin, the ByteDance-operated app exported as the notorious TikTok. Douyin has over 600 million daily users while its nearest rival, the Tencent-backed Kuaisho, has perhaps half that number.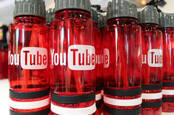 YouTube axes crowdsourced captioning: Use our buggy speech-to-subtitle code or pay an approved third party
READ MORE
The Netcasting Services Association says short videos "have become a weapon for users to 'kill' time". Other analysts suggest they have become the way residents spend their time commuting.
The report also notes that use of short videos grew during the COVID-19 pandemic, likely reflecting lockdowns that left people in need of entertainment they can consume at home and reliant on e-commerce to replace shopping expeditions.
With or without the pandemic, short video is an increasingly important marketing vehicle in the middle kingdom, as short videos often allow users to click on products depicted in a frame to be transported to an e-commerce site where they can acquire whatever it is caught their eye.
Another indicator of size and potential of China's online video market came this week with news of the merger between two video streaming companies – Huya and DouYu International Holdings. Both companies more closely resemble Amazon's game-streaming service Twitch than TikTok. Together they have a combined 300 million users.
The combined entity will be majority-owned by web giant Tencent. ®