This article is more than 1 year old
When you gaze long enough into the bork, the bork will gaze back into you
Bork, bork, bork on the Autobahn
Bork!Bork!Bork! News reaches The Register that even those paragons of efficiency and rule-following, the Germans, are not immune to the curse of Bork.
Spotted by reader and one-time Lester Haines collaborator Neil Barnes during a well earned break from autobahn-based travelling: something has befallen a restroom screen.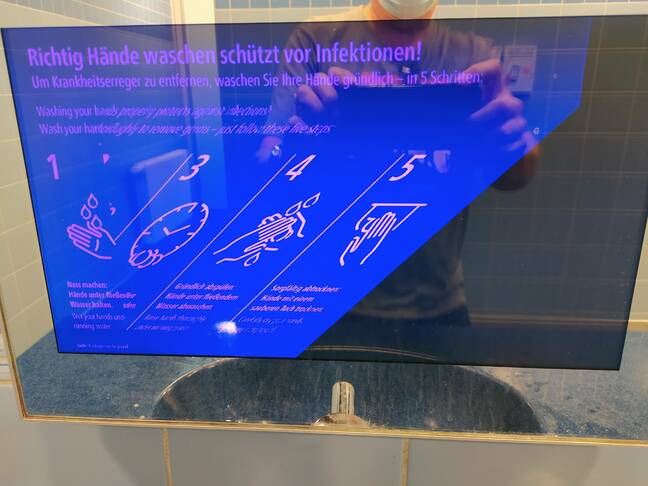 Click to enlarge
The helpful pointers on washing one's hands (although by this stage of the pandemic, anyone who has not learned the rights and wrongs of appendage cleansing is unlikely to be swayed by a German screen) look a little tipsy to us, speaking of unhappy video hardware or a crashed transition.
The German text is augmented by English words, but sadly the borkage has obscured step 2. We suspect there might be soap involved. Step 3 features a clock, likely indicating the length of time one must rub the soap - rather than warning that handwashing is only permitted at 10 minutes past 10.
The glare of blue speaks of BSODs of old, but this is clearly by design. After all, white on blue is relatively readable, even if the glitch behind the scenes is no respecter of such things.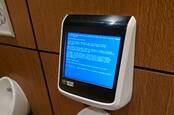 Behold the Bloo Screen of Death: Bathroom borkage stops spray play
READ MORE
We were also quite taken with idea of gazing into a mirror and having a bork gaze back at you.
As for what Nietzschen nightmare is running behind the scenes, we're not entirely sure. Barnes noted the urinals also all featured screens (although modesty forbade him from snapping them.) All said: "Android is waiting to start."
We saw similar horrors last month, although in that case it was Windows that had tumbled down the drain. It is good to know that even a sideways shift to Android is not enough to ward off the curse of the bathroom bork. ®