This article is more than 1 year old
Hey Reg readers, Happy Spreadsheet day! Because there ain't no party like an Excel party
From VisiCalc to Google Sheets, none of them is a database
Break out the bunting and crack out the Excel-based party puns. Tomorrow is Spreadsheet day, and it's time to party like it's 00/01/1900.
Celebrating the arrival of VisiCalc for the Apple II all those years ago, Spreadsheet day commemorates the columns and rows beloved by number crunchers everywhere, whatever their tool of choice (be it the likes of Lotus 1-2-3, Google Sheets or the tediously ubiquitous Excel.)
Spreadsheet day itself has its origins in 2010, by which time the tool was already firmly entrenched in the public psyche, with Excel almost a byword for the things. From their humble accountancy beginnings, the grids have been expanded into reporting and analysis engines and beyond.
While Microsoft infamously dropped the "Hall of Tortured Souls" Easter Egg into Excel 95, others have actually had a crack at implementing a 3D game engine in the thing (caution: needs macros) or undertaken musical shenanigans. It's all quite beyond anything the spreadsheet's creators could have dreamed all those decades ago.
The impressive extensibility via macros (and the dread Visual BASIC for Applications) has nearly been Excel's undoing over time.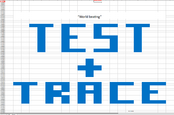 Excel Hell: It's not just blame for pandemic pandemonium being spread between the sheets
READ MORE
Miscreants have engineered the convenient code snippets for nefarious purposes while over-enthusiastic enterprises and managers used the things as a way of gluing systems together or dodging the requirement for a purpose-built GUI and database.
Indeed, the timing of Spreadsheet day is unfortunate, coming as it does mere weeks after an out of date Excel format left thousands of COVID-19 cases unreported due to "computer issues". Microsoft's spreadsheet was an easy scapegoat but, as in so many spreadsheet related cock-ups, it is usually the tool on the stool rather than the tool on the screen that is to blame.
That said, Excel has more than enough funnies of its own without humans needing to get involved. Indeed, it's obsession with "helpful" autocorrection has caused headaches for geneticists seeing the "DEC1" gene quietly changed to "1-Dec" while its sometimes confusing precision can catch out the unwary.
Certainly, spreadsheets (for Excel is not the only offender) have their place, and it is up to the IT professional to slot them into the most appropriate location. Before being ignored by an over-enthusiastic customer who has read one Excel blog too many.
Happy Spreadsheet Day! ®