This article is more than 1 year old
Rambo: First Bork. Turns out John Rambo is no match for a bad CMOS checksum
To survive a war, you gotta become war. Yes, that's a real quote from the movie. Quality
Bork!Bork!Bork! While Sylvester Stallone may or may not be done with the Rambo franchise after decades of portraying the eponymous character, its arcade incarnation endures, if a little borked.
Spotted by a Register reader at the Wokingham Superbowl, a venue featuring bowling, laser quest and the mysteriously named "extra activities", things have not gone well for the virtual John Rambo.
Indeed, those enticingly named "extra activities" appear to actually be a trip to the pool tables or a moment spent glumly looking at a borked arcade machine (at least in the case of our reader.)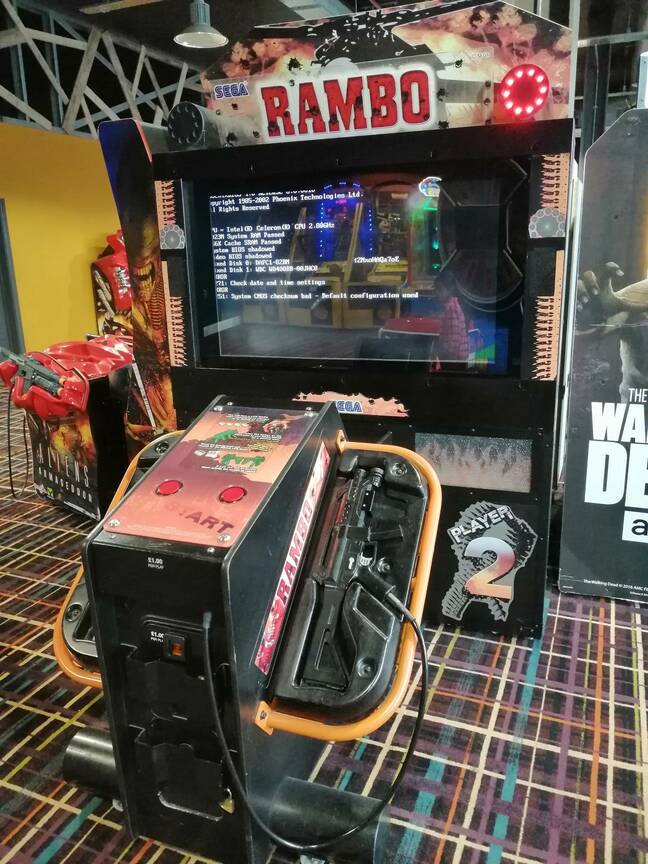 Click to enlarge
For those preferring their entertainment to be interactive, Rambo has enjoyed a few outings on computer, console and arcade cabinet over the years. This example is Sega's shooter from 2008, loosely based on the events in Rambo: First Blood Part II and Rambo III.
The machine itself is based on Sega's Lindbergh hardware – Sega Retro reckons it is the Lindbergh Red variant (at the lower end of the hardware spectrum.) The full-fat hardware featured a Pentium 4, 1GB RAM and an NVIDIA GPU. This variant looks to be running a Celeron but, alas, the CMOS seems a bit borked.
Perhaps after a decade of shooty-bang-bang action, the battery has given up the ghost. Or John Rambo was finally defeated by the dread hand of Bork.
Maybe rose tinted spectacles are to blame, but we have fond memories of the home computer versions. 1985's Rambo, also loosely based on First Blood: Part II, had this hack glued to a screen attached to a ZX Spectrum (well-heeled friends enjoyed the superior, if blockier, graphics of the Commodore 64 version). For a while it even supplanted Commando as the scrolling shooter of choice (your teenage memories may vary).
A succession of games followed, with this unhappy Rambo cabinet being the last to grace the arcades, followed by another incarnation in 2014 which, was also borked, albeit more by design than anything else. Giant Bomb declared it a runner-up in the hotly contested category of Worst Game of 2014.
Stallone has threatened more films in the franchise. Should they appear, we can but hope we are spared the arcade version: "Rambo: First Bork Part II". ®