This article is more than 1 year old
OIF! Forget OpenStack Foundation, it's becoming Open Infrastructure Foundation - with new members, an expanded role
After 10 years of OpenStack, 'a lot has changed and we are changing with it'
The OpenStack Foundation, home to the open source project for running a self-hosted cloud, is to become the Open Infrastructure Foundation (OIF), with what it describes as an expanded mission, scope and community.
The new foundation was introduced at the virtual Open Infrastructure Summit, under way this week - and becomes "fully operational" on January 1, 2021.
OpenStack is one of the biggest open source projects but not the most visible, since it is only useful for organisations determined to run their own cloud infrastructure rather than rely on the likes of AWS, Google or Microsoft – or occasionally to run OpenStack components on AWS or other public cloud platforms in an effort to avoid lock-in.
Last week saw the release of OpenStack Victoria, the 22nd release, with updates to products like Nova (manage VMs), Neutron (software-defined networking) and Cinder (manage block storage).
Why the change? "10 years in to the OpenStack journey, the landscape of infrastructure, and what you need to automate, and application requirements is so much broader … a lot has changed and we are changing with it," chief operating officer Mark Collier told us at a press briefing.
Not only is OpenStack itself huge and diverse, but there are also other related projects which the Foundation will support.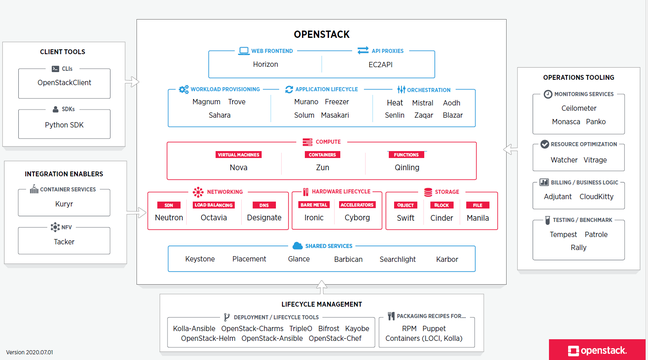 Click to enlarge
"OpenStack is still, in our view, the heart of open infrastructure. It provides an option to run your own environment, to control it all. What we've seen is there is no single project that meets all the needs," said Collier, saying that the OpenStack team was "focused on managing that low-level infrastructure, compute storage and networking."
The related projects category includes Magma, open source software for operators offering cellular or Wi-Fi services and supporting standards like LTE, 3GPP and 5G. "Magma sits at a different layer of the stack and it's great for it to have a community of experts," said Collier.
There is also OpenInfra Labs which is focused on taking open source software into production. For example, Project Wenju, an OpenInfra Labs activity, is about providing resources that shorten the time required to deploy AI applications, which, it is claimed, is longer than it should be because "the current AI tooling landscape is siloed, crowded and confusing to developers," causing "a crisis of AI production today."
Kubernetes is another factor. Most OpenStack environments have Kubernetes running on top, we were told, and while Kubernetes is a project of the Cloud Native Computing Foundation (CNCF) rather than OIF, there is plenty to do in terms of making the two play nicely together.
OIF executive director Jonathan Bryce said that hardware diversification has made cloud infrastructure more complex, thinking of things like the increasing role of Arm processors, FPGA chips, GPU and AI accelerators, alongside x86 CPUs. "We also see more deployment diversification," he said, with "small deployments and micro-clouds on the edge," alongside hyper-scale clouds.
Platinum sponsors of OIF including AT&T, Ericsson, Huawei, Red Hat and Tencent Cloud were recently joined by ANT Group, Facebook Connectivity, FiberHome and Wind River. There has been movement in the other direction too. Intel, a Platinum sponsor of OpenStack Foundation, is moving down to Gold status for OIF, while SUSE, another former Platinum sponsor, remains involved but only at Silver level. It appears that Rackspace has not yet signed up.
Red Hat claimed to be the "largest corporate contributor to OpenStack" and needs the technology in order to offer a complete open source platform. Canonical is another supporter. It is also widely used by the telecom industry, including AT&T, but also many far east operators such as China Telecom and China Unicom. ®