This article is more than 1 year old
2020 hasn't been all bad – a new Raspberry Pi Compute Module is here
Farewell to the old form factor, hello to extra HDMI and speedier silicon
The Raspberry Pi team has stuck with tradition by following its Pi 4 a year or so later with the Compute Module 4. Those expecting another DDR2 SODIMM sized board are, however, in for a shock.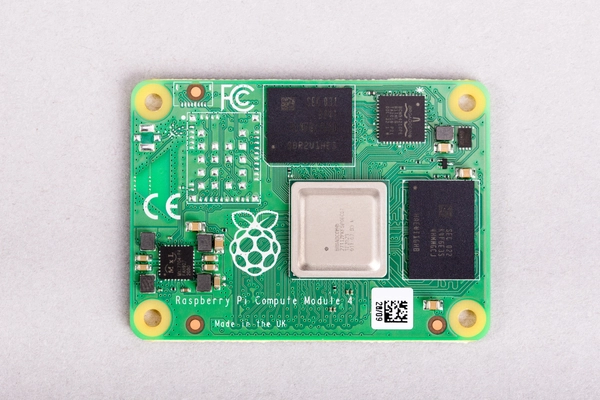 Industrial and commercial customers are important to the company: more than half of the seven million Pis sold each year are snapped up by them. The market has been served over the years by a Pi packaged into the SODIMM form factor (for example, the Compute Module 3 of 2019.)
But times change and citing a need to bring out extra features (such as the second HDMI port) the team has instead opted for a new, significantly smaller, form factor with two high-density perpendicular connectors (one for power and low-speed interfaces and one for high-speed interfaces.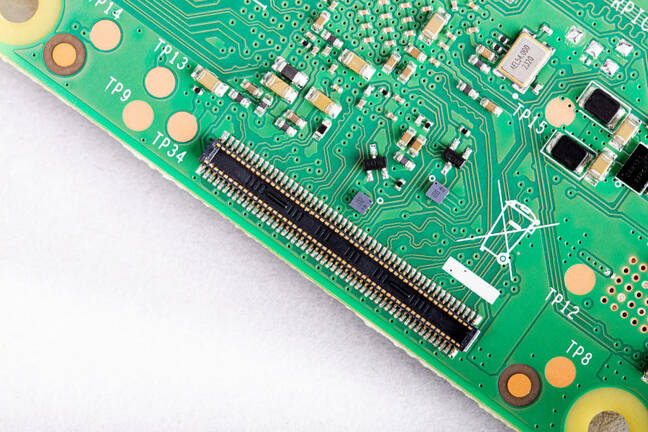 High-density connector on board underside
While the change may cause a rethink for industrial integrators, the new form factor should make for smaller devices. Where the original Pi is aimed at hobbyists, education and those who fancy an inexpensive Linux-powered computer, the Compute Module continues to target industrial applications (including the likes of digital signage or those oh-so-trendy edge devices.)
Those building such kit have a wider variety of specifications to choose from this time around – from 1GB to 8GB of SDRAM and optional onboard eMMC Flash storage of up to 32GB.
The dual HDMI interfaces on offer also afford some intriguing options, as does the gigabit Ethernet (joining the optional wireless LAN and Bluetooth 5 connectivity.) A PCI Express interface and hardware video decoding and encoding should keep those displays ticking over nicely.
Performance comes from a 1.5GHz quad-core 64-bit ARM Cortex-A72 CPU and prices range from $25 for the most basic 1GB incarnation to $90 for an 8GB variant with 32GB of storage and wireless goodness. Most integrators are likely to jump somewhere in the middle.
Other than the connector, the Compute Module relies on the integrator to configure whatever is needed, and a $35 example I/O board is also available as a development platform. While CAD for the board is available in KiCad format, purchasers of an actual unit will receive a device with ports familiar to a Pi 4 owner.
An external antenna kit is also available for those wireless users needing more than the capabilities of what is lurking on the PCB. ®