This article is more than 1 year old
Adobe updates Creative Cloud: Pushes out Illustrator for iPad and full sky replacement in Photoshop
Plus: Is it real or is it Photoshop? First preview of Content Authenticity tool
Adobe MAX Adobe has updated its Creative Cloud product suite with tweaks including a content authenticity tool for determining what has been faked in Photoshop.
The software suite purveyor has also introduced a "replace sky" feature in the venerable photo editor as well as rolling out a vector graphics editor Illustrator for iPad.
Adobe's virtual MAX conference – and the first free MAX event - kicks off today, devoted to what's new and what's coming in the company's design, media and document tools, including Photoshop, Illustrator, Premiere, InDesign and Acrobat.
Creative Cloud, Adobe's subscription service, is now composed of nearly 30 applications, variously available on Mac, Windows, iOS and (to some extent) Android. Despite the cloud designation, it is really a hybrid product set, with most work done on native applications rather than in the browser. This is a big release and the company emitted 24 separate press releases covering new features.
First preview of Content Authenticity tools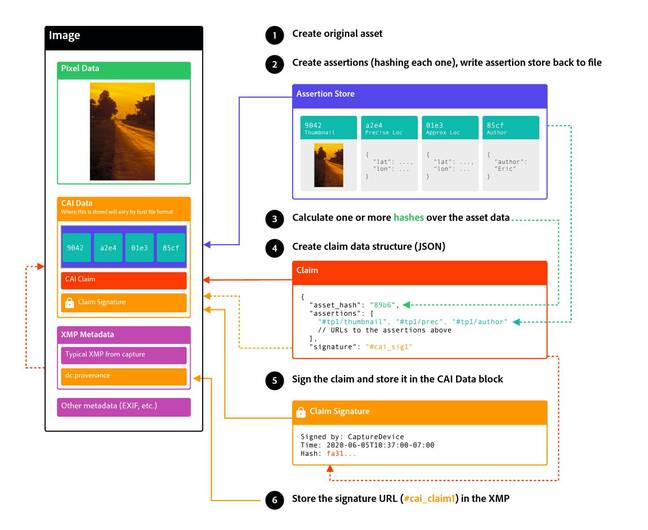 This diagram shows how authenticity metadata, in the form of claims and assertions, is digitally signed to protect from tampering
There is one aspect of Adobe's vast suite of tools that is important beyond the design world, and that is knowing what is real and what is faked. At last year's MAX, Adobe introduced the Content Authenticity Initiative, the idea being to include tamper-proof metadata with digital media so that we can answer the question: is it real or is it Photoshop?
This year sees the first preview of an attribution tool based on this work in Photoshop, along with support for it in Adobe Behance, an online portfolio site. The tool lets designers add data to an image including who originated it, the edit history, and thumbnails of its historical state.
In an example, Adobe showed how a photo of Philippine mountains is combined with a cropped image of a person to produce an imagined scene; but with metadata that allows us to trace the history and see that it is composed of two images, and that the sky has been replaced so even the weather is fake. On upload to Behance, an "About this content" panel lets viewers see all the details. The attribution tool is described as using an early version of the standard, and is currently available "to select customers in a beta release of Photoshop and Behance."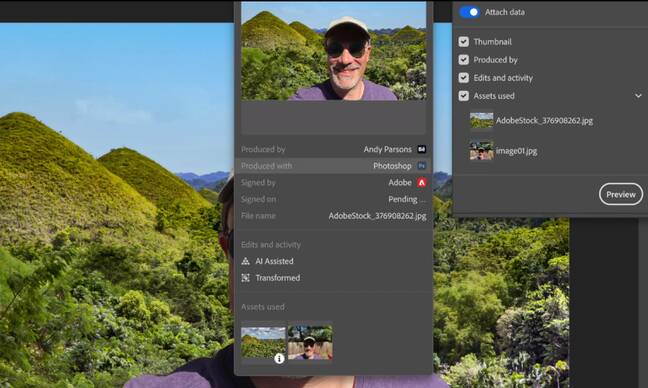 The new attribution tool in Photoshop lets designers add tamper-proof metadata showing image history, including thumbnails
Although this seems a step forward, it will not yet be widely useful for determining image authenticity. The white paper on the initiative explains that the eventual goal is to have cameras support the standard so there is an end to end record of image source and edits.
Devices do not yet support it though, and it is opt in, so in our example the creator of the fake image could just opt to exclude all or part of the metadata. It will only be effective if viewers learn to distrust any image that lacks authenticity data, in the same way as websites with invalid SSL certificates are mistrusted, but such a possibility is many years away. That said, this could still have value in cases where the originators want to prove that it is their image, but also to allow for edits. Adobe has in mind copyright protection as well as combating fakery.
Photoshop neural filters and Sky replacement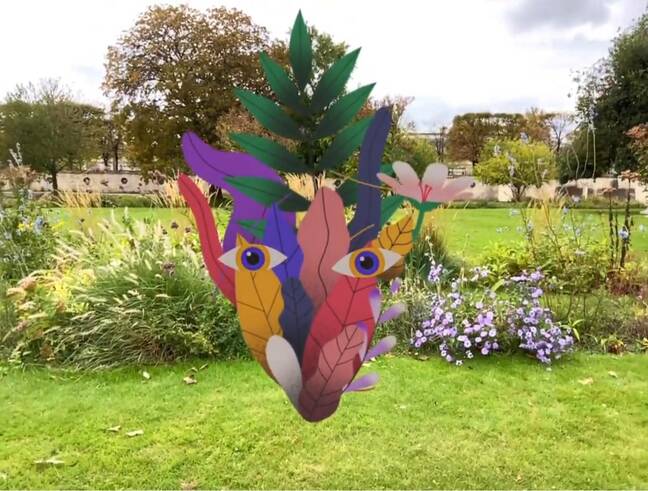 Augmented reality delivered by Aero on a mobile device
At the same time as attempting to improve content authenticity, Adobe is busy making Photoshop better at altering reality. The company said it has added "five major new artificial intelligence features."
Sky Replacement is one, a dedicated tool that lets you select a different sky for any outdoor image, with options to adjust brightness, temperature, lighting, colours and more. Now everyone's holiday snaps or wedding photos can be sunny. Another feature is called Neural Filters, with the "neural" presumably a reference to neural networks (AI which attempts to model the workings of a brain). The feature was built in collaboration with Nvidia but also works (more slowly) when GPU acceleration is not present. Adobe said the feature is "the beginning of a complete reimagination of filters and image manipulation in Photoshop."
It has been surfaced as a new workspace in Photoshop with a large set of non-destructive filters, many of them in beta. Examples are skin smoothing, and beyond that Smart Portrait which will "help you transform age, expression, colours and more." You can alter the direction of the eyes or head. Another example is Colorize, used to add content-aware colour to monochrome images.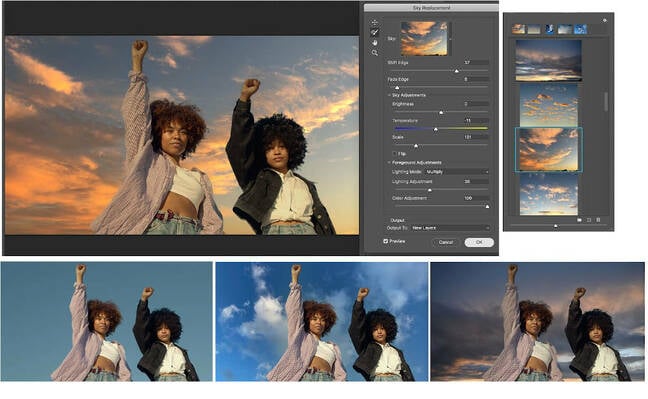 AI-driven Sky Replacement is a new Photoshop feature
Photoshop is intimidating for newcomers and to address this, Adobe has introduced a new Discover panel which includes feature search as well as new tutorials and automated single-click actions. There is also now built-in document version history, with view and revert options for images saved on Adobe's cloud storage.
Illustrator for iPad, Fresco for iPhone, Aero for desktop
Adobe's venerable Illustrator application is now available on Apple iPad. It is not easy to convert a desktop user interface to touch control, so this has been substantially reworked with strong support for Apple Pencil and an approach that reveals controls according to context, avoiding an over-busy screen. Features include over 18,000 fonts and the ability to load your own licensed fonts, OpenType color, type on a path and text outlines, and new features called radial, grid and mirror repeat. Adobe promises more effects and more brushes to come, as well as the ability to convert sketches to vector graphics.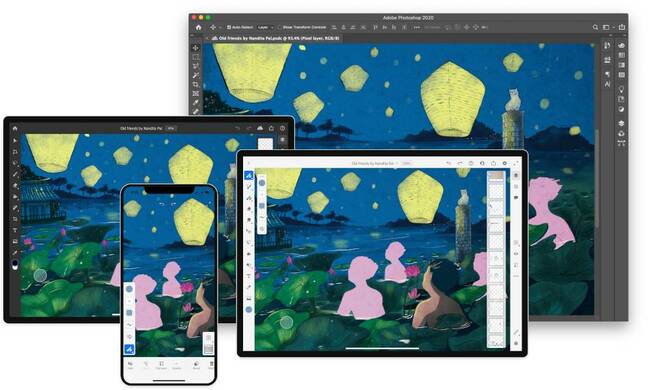 Adobe Fresco 2.0 has new features and a new platform, Apple's iPhone
Adobe has also released version 2.0 of Fresco, its drawing and painting application, which includes iPhone support for the first time, in addition to the existing iPad and Windows versions. No Android yet. Fresco 2.0 has added text support, with sliders for sizing, leading and tracking, and a new "smudge brush" tool for softening strokes and blending or blurring edges. There is also fine control over pressure sensitivity.
Confident artists can now livestream their Fresco efforts to Behance. Like Photoshop, Fresco now supports document version history and reversion.
Aero, Adobe's augmented reality application, was introduced for iOS at last year's MAX. New this year is Aero for Mac and Windows, now in public beta, which Adobe said "allows for much deeper precision and more complexity." The company has in mind that users might create AR scenes on mobile and edit on desktop for a more robust environment. Since this is about AR, the user still require iOS to view the scene live in a physical environment. New features in Aero include the ability to import animated GIFs. Users can also add multi-track animations to existing objects allowing them to be played sequentially.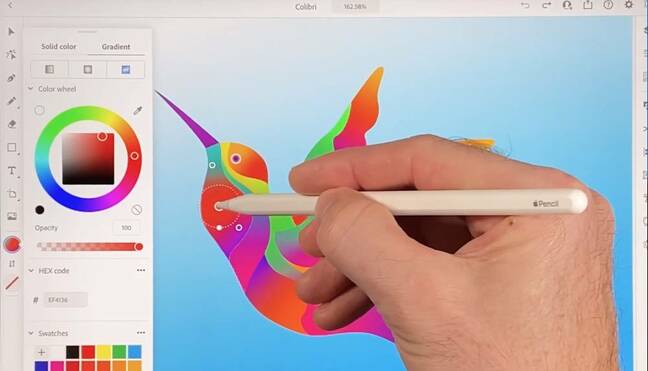 Adobe's Illustrator application is available for the first time on iPad
InDesign online and more
Adobe's publishing tool InDesign is to get online editing capabilities, though these features remain in beta. On the way, the company said, is the ability to edit InDesign files in the browser with preview of the final appearance. This is significant since it is a step towards avoiding the workflow of publishing drafts to PDF, circulating by email, receiving marked PDFs back, and then editing in InDesign. Fortunately there will be control over which sections of an inDesign document are editable online, and only text rather than graphical elements will be amendable by collaborators, avoiding scrambled documents. These new features are in beta preview.
Those who require the full details of what is new can head over to MAX or to the individual posts Adobe has made on its website. Business as usual for the design professional's favourite vendor, though maybe not for Android enthusiasts as love for Google's platform is conspicuously absent from this year's Adobe MAX news. ®