This article is more than 1 year old
Cisco warns VMware vCenter bug puts hyperconverged tin in 'unrecoverable' state
Whatever you do, don't run vCenter Server 7.0 U1 on HyperFlex. Just don't go there unless you want horrible pain. Clear enough warning?
Cisco has issued an odd warning to users of its HyperFlex hyperconverged infrastructure products, telling them a VMware programming blunder can leave their installation in an "unrecoverable" state.
"A VMware software defect has been identified in vCenter Server 7.0 U1 that impacts HyperFlex clusters," Cisco told customers. "This defect impacts HyperFlex controller VMs that are managed by the vCenter ESX Agent Manager (EAM) service.
"As a result of this defect, HyperFlex clusters that are registered to a new vCenter Server 7.0 Update 1 instance can encounter an issue in which HyperFlex controller VMs suddenly power off and are deleted automatically. This results in a loss of cluster availability. In some cases, the HyperFlex storage cluster can become unrecoverable."
Which sounds just like the sort of thing users need to know.
But Cisco also says the offending versions of vCenter and vSphere are "not currently supported with HyperFlex."
So why put something so scary into users' inboxes?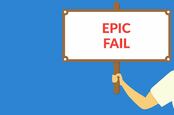 Cisco restores evidence of its funniest FAIL – ethernet cable presses switch's reset button
READ MORE
"This notice is being issued out of an abundance of caution," is Cisco's reasoning. Which is not unreasonable given that Cisco and VMware are tight, and some users won't have checked the hardware compatibility lists before deploying the code.
Hence Cisco's recommendation: "Avoid at all costs the registration of a HyperFlex cluster to a vCenter 7.0U1 until this issue is resolved by VMware."
Take that warning seriously, dear reader, because Cisco says even manually removing EAM won't prevent the issue.
"A solution from Cisco and VMware is necessary in order to mitigate this software defect," its notice concludes. "Do not use vCenter 7.0 GA or vCenter 7.0 U1 until they are qualified and listed as a supported combination in the HyperFlex Data Platform release notes."
You can't say you haven't been warned. ®