This article is more than 1 year old
Everybody's going to the Moon (and Mars): The Reg chats to ESA about 10-year plans and sending Tim back to space
Agency's 'nauts to ride in US commercial crew capsules 'going forward'
ESA handed out contracts last week, with the usual suspects scooping up awards aimed at lunar exploration and beyond. The Register spoke to David Parker, ESA's director of Human and Robotic Exploration, about the Moon, Mars and when Tim Peake would fly again.
British ESA 'naut Peake took a trip to the International Space Station (ISS) back in 2015, a launch that Parker put in his top three most memorable moments during his lengthy career at the European agency. Since Peake's return to Earth in 2016, speculation on when he might make a second flight has rumbled on.
Parker told us that a call for the next batch of ESA astronauts, assuming the agency's member states agree, would occur early next year with selection by 2022: "They'd be ready to undertake missions from 2025 onwards," he said.
"We expect those [missions] to be to the ISS," Parker added.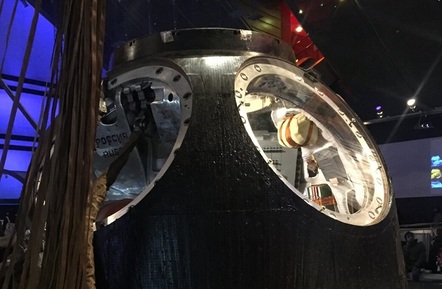 Tim Peake's Soyuz capsule, snapped by Richard Speed last year in May when it landed in London's Science Museum
And the current batch? While NASA dreams of putting its astronauts on the Moon by 2024, ESA's 'nauts might well undertake a deep space mission of their own to the lunar gateway.
As for Tim Peake, Parker trotted out the company line: "The commitment we made to the member states is that all of the astronauts will get a second flight." But Peake, along with a number of other high-profile fliers, has yet to be assigned.
Present and future ESA astronauts will also have a somewhat different experience on their jaunt to orbit. The agency's seats on visiting spacecraft are picked up via bartering services, previously the ATV freighters and now the service modules for NASA's Orion spacecraft. "Up to now," Parker explained, "they've been procuring seats through Soyuz, but going forward we expect there to be US crew vehicles."
Unlike Soyuz, which can carry three crew members, the US commercial crew capsules (SpaceX has demonstrated one crewed mission, Boeing has yet to do so) can carry four, "so it's also our expectation is that we will get to an additional permanent crew member on the space station."
As for going beyond the ISS, while ESA has signed contracts for the first three service modules for Orion, the agency is working on a deal with Surrey Satellite Technology Ltd (SSTL) (https://www.sstl.co.uk/media-hub/latest-news/2020/sstl-kicks-off-lunar-pathfinder-communications-mis) to buy services from the Lunar data-relay spacecraft, Lunar Pathfinder. The services may also support some of NASA's robotic missions, although Parker noted that the pressure to launch by the end of 2022 had eased a little thanks to NASA's VIPER trundlebot slipping into 2023.
While the US rushes ahead with what is looking depressingly similar to an Apollo-like adventure to the Moon in 2024, ESA is continuing to proceed with plans for more sustainable lunar exploration in the form of its contributions to the Lunar Gateway (a project involving NASA, ESA, JAXA, CSA but, notably, currently not Russia.)
Thales Alenia Space will be leading the development of ESA's two key modules for the gateway; the International Habitat (I-HAB) and ESPRIT, a communications and refuelling module, which will also feature an observation window. Those concerned about Blighty's participation will be relieved the learn that the UK will be involved in the latter, contributing to the chemical refuelling system.
Going up
ESPRIT (European System Providing Refueling, Infrastructure and Telecommunications), development of which is already underway, will launch in the two parts. The first, HLCS (Halo Lunar Communication System), will go up with HALO, the Cygnus-derived logistics and habitation module, in 2024. The second part, ERM (ESPRIT Refueling Module), which lays the groundwork for a reusable Lunar lander or a future mission to Mars, is due for delivery in 2026, with launch in 2027.
I-HAB, using experience gleaned from developing the ISS Nodes 2 and 3, is due for launch in 2026.
Parker was reluctant to comment on what would actually launch the ESPRIT modules. While there is potential for a high-performance version of NASA's troubled SLS to be used, he left the selection of the launcher in the hands of the US agency. "I-HAB," he added, "is to be launchable on a commercial launch vehicle."
While there are hopes that ESA might act as a bridge to bring Russia into the Lunar Gateway project, Mars is very much on the radar. Of the delayed ExoMars rover, Parker explained that other than some light repairwork (notably to the bonding of the rover's solar panels) there were no plans for any further tinkering ahead of the eventual launch.
The rover will be followed by the hugely ambitious sample return mission planned by NASA and ESA for which agreements have now been signed. The plan is for NASA's Perseverance rover, now en-route to the red planet, to stash samples. ESA will provide "a very small, very fast rover" to collect those samples and return them to a lander.
There is potential for a bit of redundancy in the system (at least at this point), as Parker explained: "If Perseverance is still operating, it may bring samples directly back to the lander along with the sample-fetch rover." The samples are then loaded into a container and launched into space, where it will be collected by the Earth Return Orbiter [ERO], which will then return to Earth.
"ERO," said Parker, "is like BepiColombo [ESA and JAXA's mission to Mercury] on steroids" with double the electric power and thrust.
The earliest the lander could launch is 2026, with surface operations running between 2028 and 2029 due to dust storms.
And as for the other two memorable events for the ESA veteran? Being present at ESOC when the Huygens probe entered Titan's atmosphere and seeing the agency score funding last November for the next decade of its exploration programme.
After all, big dreams are all well and good, but somebody has to foot the bill. ®