Fans of Microsoft's dancing developer goalposts will be delighted to learn that its latest crack at a web control, WebView2, has been declared fit for production.
WebView2 is built on top of Microsoft's take on a modern browser - the Chromium-based Edge. It is also intended to be the replacement for WebView, itself based on the original Edge rendering engine, EdgeHTML.
Microsoft threw in the towel on the original incarnation of Edge, "Legacy", months ago, but not before urging developers to pop WebView into their WPF or Windows Forms applications for the purpose of using web content. Those same developers are now being directed to WebView2, aimed at any Win32 C/C++ application and a part of Project Reunion.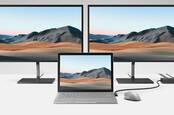 Project Reunion: Microsoft's attempt to tear down all those barriers it's built for Windows developers over the years
READ MORE
WebView2 isn't quite there yet, notwithstanding the differences between the EdgeHTML and Chromium-based incarnations, and only a forward-compatible SDK and the WebView2 runtime have been emitted. The .NET and WinUI 3.0 versions remain in preview for the time being. .NET (WinForms and WPF) is due by the end of 2020, and WinUI 3.0 likely to hit at some point in 2021.
What to expect
More interestingly, Microsoft is also planning two different distribution models. The Evergreen WebView2 runtime, which will be kept automatically up to date by Microsoft, and for those less trusting of the BSOD Boys, there will be a Fixed version that won't self-update.
Going down the Fixed route will likely result in higher disk space usage than the Evergreen version since the latter is shared by all applications that need it. However, the peace of mind from knowing that a critical app component will be unchanged by Edge Stable browser updates is worth a few bytes of storage to many enterprises.
WebView2 is a little more friendly regarding Windows versions, going as far back as Windows 7 or Windows Server 2008 R2. The original WebView preferred life under Windows 10 (although would cheerfully vomit up fall back to Internet Explorer in apps compiled for Windows 8 and 8.1.)
A new SDK is expected every six weeks, and it is reasonable to expect that Microsoft will polish out some of the rough edges by the end of the year.
Developers, however, having already been encouraged to haul their apps from Internet Explorer's WebBrowsers control through Edge's WebView (despite APIs differing "significantly" in a Redmondian understatement), may have already moved on. ®