This article is more than 1 year old
Got an irritating itch you just can't scratch? That'll be Windows wanting an update
No, we're a chemist. We don't sell that sort of patch.
Bork!Bork!Bork! Welcome to another in The Register's series of computers (largely Windows-based) doing the most annoying of things in public places.
Today's entry takes us to the delightful Swiss city of Geneva, home to the European Organisation for Nuclear Research (CERN) and many splendid cheese-based dishes (the ubiquitous fondue springs to mind, as does la Croute au Fromage) and the excellent Longeole.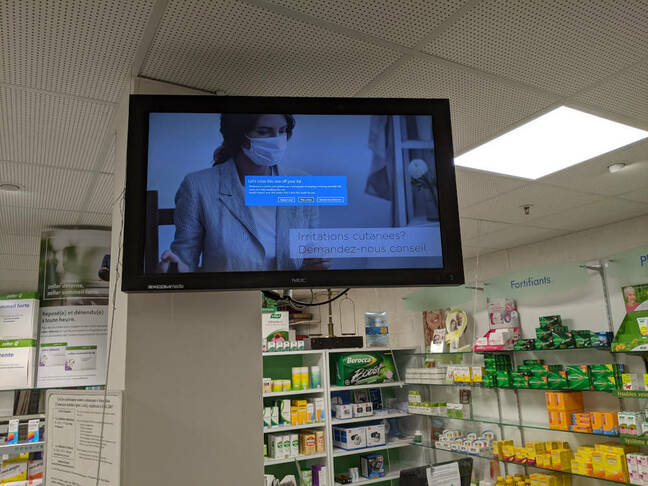 Click to enlarge
It is also home to its fair share of chemists, including this example snapped near the airport by Register reader Ciaran.
The screen, located by the checkout, is promising punters assistance with irritating skin conditions. Sadly, it seems the largesse does not extend to the irritating messages with which Windows 10 is festooned, and which tend to pop up at the most inconvenient of times.
The NEC display is strung from the ceiling, so jabbing at the thing wasn't an option for our reader. Hopefully somebody in the back-office, filled to the brim with Swiss efficiency, was dealing with the problem there and then.
Or maybe they were simply refusing to acknowledge it in the way that some Francophones tend to do when presented with English. Certainly, one would have hoped that whoever had set up Windows would have at least selected something to match the slideshow.
Still, the pop-up is both a reminder of the need to make sure one's policies are set correctly, and also a tip that the vague itchiness felt by Windows users as the OS prepares to indulge itself in an update may be just that - an irritating itch - rather than the dread of what might happen following the reboot. ®