This article is more than 1 year old
Logitech breezes past $1bn sales barrier in its Q2. That's a hell of a lot of mice, keyboards and web cams
Pandemic? Only in that not enough webcams are being made. CEO talks WFH trend, video calls and eSports
The pandemic has been kind to some parts of the tech industry and desperately cruel to others. For peripherals-maker Logitech, life has never been so good, with quarterly sales cruising past $1bn for the first time.
The business generated $1.26bn of revenue in Q2 ended 30 September, up 75 per cent year-on-year. For the six months, revenue was reported as $2.049bn, versus $1.363m for the same period of the prior financial year.
Bracken Darrell, president and CEO at Swiss headquartered Logitech, told analysts on a conference call that 2020 was a "challenging year", the "harmful impacts of COVID-19 have been horrible" but the dynamics had played in its favour commercially.
He said the creativity and productivity category bounced along, with turnover on mice and keyboards up 35 per and 44 per cent respectively, tablet and other accessory sales grew 140 per cent, gaming gear rose 84 per cent and PC webcams were two and a half times bigger than a year earlier.
"Despite improving our capacity throughout the quarter, we still couldn't make enough to meet all the demand for Logitech webcams," said Darrell. "We're expanding our capacity even further as we qualify other components suppliers to meet this unprecedented demand for video devices."
Logitech was fallible in one area: mobile speakers "remained weak this quarter," said the CEO. "We continue to reduce our investment in the category and reallocate resources to other faster growing market opportunities."
The business fundamentals were strong in the three months with cash flow up to $280m from $107m a year ago, rapid inventory turns due to sales velocity meant a record low cash conversion cycle of 19 days. Profit before tax leaped in Q2 to $323.1m from $70.33m a year earlier, and was up to $409.3m for the six months versus $122.2m.
In addition to peripherals, notebook PCs are also in huge demand, as are cloud services that let people work and learn from home. On the flip side, data centre gear, desktops and office printing have all suffered since COVID-19 linked lockdowns were imposed in March.
Darrell predicted that as the northern hemisphere heads into winter, there will be no likely change in the way we live, and though he said "this won't last forever" he felt some aspects of life now will be permanent: where and the way we work; video calls; the growing popularity of esports.
"COVID-19 didn't initiate any of those trends, it accelerated all of them. And they will continue to grow. Video is going to grow at the expense of audio calls. Esports will continue to grow too and one day become bigger than conventional sports in viewership and participation. And more and more of us will share more and more creations with each other."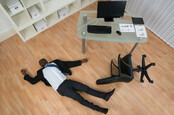 Work life balance? We've heard of it. Pandemic means 9-5 shifts are a thing of the past for many
READ MORE
As for working from home? Darrell said: "Work will increasingly spread outside of our offices, even though we continue to work in offices too."
"What will likely moderate is the extent to which we're working at home. Our belief is that while offices will reopen and people will go to work in them again, not all companies will be the same. Some companies will go exactly back to the way it was before, almost everyone in the office every day. I think this is going to be a small minority. Others will go completely the other way, and they're going to eliminate offices altogether. I think this too, is going to be a really small minority. And that leaves the big middle, a hybrid of work in the office and work at home.
All of this has meant and will continue to mean that technology is bought from work and home environments. "In other words, the market for many of our categories is correlated with the number of locations people work from. And we believe this market will grow more rapidly as people rethink the number and locations of spaces they need," said the CEO.
There will also be ample chance to upsell Logitech customers too after "that hasty expansion to the home", whether that be "better ergonomics" or "better aesthetics" as various workspaces become more permanent.
"And then these video rooms will need to be improved and upgraded. And education will also be hybrid, computing devices and the peripherals we built for them will have become mandatory, as have good cameras and computers for teachers. That reality will surely remain in place now in some way for good."
As such, Logitech has raised annual sales outlook for this current financial year to between 35 to 40 per cent growth, versus the 10 to 13 per cent initially forecast. That said, living in a pandemic means volatility in the norm and despite all of his bullish talk, Darrell refused to give guidance for next year.
Who can blame him? What goes up can also come down - and just like the rest of us, stock markets don't like big surprises. ®