This article is more than 1 year old
Run Windows on a Chromebook: All the details. Not so fast, home user...
Parallels' Windows on Chrome OS solution is Enterprise-only, but why?
Virtualisation software folk at Parallels have released details of a solution for running Windows on Google's ChromeOS.
Parallels is well known for its Mac product, version 16 of which was released in August, which is Windows running on a virtual machine with deep integration, particularly Coherence Mode which runs Windows invisibly in the background so the application runs on the Mac desktop.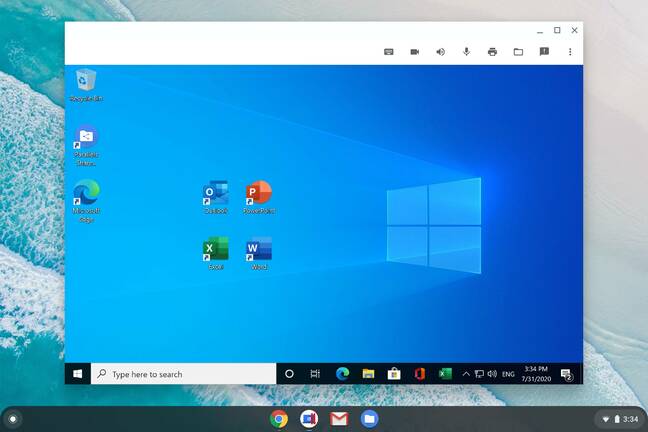 In June Google revealed a "new partnership with Parallels" to bring what Google naturally calls "legacy application support – which includes Microsoft Office desktop apps – to Chromebooks."
Full details on how this works are now available thanks to documentation on the Parallels site, though the Get Started link yields an expression of interest form rather than a direct purchase option.
Features of the integration include the ability to open files on Chrome OS with a Windows application, suspend and resume the Windows VM to save resources when not in use and avoid full Windows reboots on startup, an option to run full screen, shared clipboard, and printing from Windows.
Parallels will not be available to all Chromebook users, only to Chrome Enterprise. Customers will be paying both Parallels and Microsoft for this integration; it is not a cheap option. The system requirements are:
Intel Core i5 or Core i7
16GB or more RAM
128GB or more storage
Google Enterprise license
Chrome OS device enrolled into Enterprise management
Microsoft Windows 10 license
Windows 10 disk image and the ability to deploy images via HTTP or HTTPS
Admins need to prepare a Windows image based on the official Windows 10 ISO file, and include Parallels Tools. This is then exported as a ZIP file and made available as a download for users. Admins apply Parallels licences in the Google admin console, following which licensed users can install by running the Parallels Desktop app from the Chromebook launcher. After that, it is Windows and can be domain-joined or added to Azure AD and managed through Group Policy or InTune in the normal way.
The user experience is not as seamless as is the case with Parallels for Mac. Users run Windows applications from the Windows VM, and there is no ability to shove it into the background. That said, Windows user folders are exposed to Chrome OS under the "My files" directory, and to go the other way, users can right-click a Chrome OS folder and choose "Share with Parallels Desktop". A Keyboard menu lets users send key combinations to the VM, including the famed Ctrl-Alt-Delete.
What's the point?
There are a few key reasons why organisations adopt Chrome OS, these being the security of a locked-down, auto-updated operating system, low cost for environments like education, and the best integration with Google Workspace (formerly G Suite).
The Parallels product will not appeal to the budget-conscious, but it is a solution for users who need to run Windows locally, perhaps to have access to custom business desktop applications, or to run Microsoft Office locally in order to experience the full joy of Excel. There could still be a cost saving if only a minority of users require this.
We understand the pricing is $69.99 per user per annum if purchased direct from Parallels.
Worth noting, though, is that there are several other ways of running Windows applications on Chrome OS, the most obvious ones being remote desktop solutions - including Microsoft's Windows Virtual Desktop, accessible via the Android remote desktop application or via the web browser client – or using Wine on Linux within Chrome OS.
Now with the option of Windows via Parallels, Chrome OS has become a flexible four-in-one OS: native Chrome OS, Android, Linux or Windows all run, and even if one or other of these environments get borked, the core OS is likely to remain unscathed.
The restriction of this integration to Google Enterprise is a shame, and does not seem to be for any technical reason. We have enquired about the rationale.
Google, perhaps, is torn between enabling Windows in order to increase the appeal of Chrome OS, or excluding Windows to press home its security advantages and push software vendors towards Android or web applications. ®