This article is more than 1 year old
Iran sent threatening pro-Trump emails to American Democrats, Russia close behind, says US intelligence
No, say it ain't so, maga_christ9000@post.ir
Updated Menacing emails to Democratic voters, telling them to vote for Donald Trump in the upcoming US elections or else, were sent by Iran, US intelligence claimed on Wednesday night.
The flood of messages, sent to citizens in Florida, Arizona and elsewhere this week, were addressed from the Proud Boys, a fringe group of far-right Trump supporters. The emails ordered the recipients to back the incumbent president at the ballot box on November 3, and warned "we will come after you," if they refused. "We are in possession of all your information (email, address, telephone... everything)," the messages added.
At a press conference tonight, Uncle Sam's Director of National Intelligence John Ratcliffe said the messages were actually sent by Iranian agents, who had obtained US voter records, including contact details, seemingly to intimidate Americans. We're also told Russia separately got its hands on these records, and plans to use them to influence the elections.
We are in possession of all your information (email, address, telephone... everything)
Not that these records are hard to find: they are commercially or freely available to obtain, depending on which state you live. Trustwave's SpiderLabs today pointed out a US voter database containing 168 million entries was being hawked online by miscreants, too.
Having said that, US officials apparently found security holes in state and local election websites, and told those teams to patch the vulnerabilities, the Washington Post reported.
Some may interpret that as the Iranians and Russians hacking said websites to get people's details. However the data was obtained, folks shouldn't lose sight of the fact that there are many places one can get hold of US voter rolls. This information typically includes things like names, addresses, voting preferences, and the like.
Some of the threatening messages including a video that attempted to explain how to vote more than once, and the emails also made claims about America's "entire voting infrastructure" being compromised, though that's an obvious lie to sow doubt in people's minds.
"This video and any claims about such allegedly fraudulent ballots are not true," Ratcliffe said, adding that the "spoofed" emails, addressed from the defunct officialproudboys.com, were written to "incite social unrest and damage President Trump," presumably by linking him to a very public coercion campaign.
"These actions are desperate attempts by desperate adversaries," the spymaster continued. "Even if the adversaries pursue further attempts to intimidate or attempt to undermine voter confidence, know that our election systems are resilient and you can be confident your votes are secure."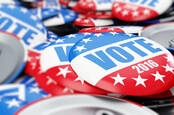 China, Russia and Iran all attacking US elections and using some nasty new tactics, says Microsoft
READ MORE
FBI Director Christopher Wray also sought to reassure voters that the nation's election security "remains resilient," and votes are safe.
"We're not going to tolerate foreign interference in our elections or any criminal activity that threatens the sanctity of your vote or undermines public confidence in the outcome of the election," he told reporters. "You should be confident that your vote counts. Early, unverified claims to the contrary should be viewed with a healthy dose of skepticism."
His words were echoed by Senators Marco Rubio (R-FL) and Mark Warner (D-VA), Senate Select Committee on Intelligence acting chairman and vice-chairman, respectively.
"As we enter the last weeks before the election, we urge every American – including members of the media – to be cautious about believing or spreading unverified, sensational claims related to votes and voting," the pair said in a statement.
"State and local election officials are in regular contact with federal law enforcement and cyber security professionals, and they are all working around the clock to ensure that Election 2020 is safe, secure, and free from outside interference."
For what it's worth, Reuters reported the emails are still under investigation, "and one intelligence source said it was still unclear who was behind them."
Don't forget to vote this November. ®
Updated to add
Google confirmed on Thursday shenanigans were afoot by Iran: the web giant told reporters "25,000 emails were sent to Gmail users in a suspected Iranian campaign targeting the 2020 election." Google also claimed its spam filters caught 90 per cent of that, meaning about 2,500 messages got through to voters.