This article is more than 1 year old
NHS awards £500m everything-and-the-kitchen-sink framework to a long list of resellers
Backup, servers, storage, LAN, WAN and SAN, and software galore
NHS Shared Business Services, the joint venture between the UK's Department of Health and Social Care and French outsourcing firm Sopra Steria, has awarded a £500m framework to an army of resellers and technology firms.
Released because of the "consistent and growing market for one-stop solutions", the framework requests a long list of IT services, software and hardware: everything from antivirus software to mainframe computers, according to the contract award notice.
So long is the list of winners (28 in all, see box), it could raise questions over the value of being on the framework at all, since the lucky firms might not actually get work from it. Frameworks are supposed to get better prices for the public sector by securing volume deals from suppliers, while also easing the pre-qualification process for procurement.
The prior information notice for contract said that "whilst the framework is looking for a full solution, please note that contracting authorities will be able to buy pieces of hardware and/or software as required through the framework."
Hardware on the framework includes servers, storage, LAN, WAN and SAN networking equipment, switches, back-up and recovery, and client devices. The software includes virtualisation platforms, virtualisation management, session brokers, desktop operating systems, and other third-party software including bespoke/niche software.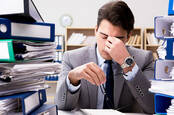 NHS: Remember those patient records we didn't deliver? Well, we found another 162,000
READ MORE
But it is not just hardware and software that NHS Shared Business Services is shopping for. Earlier this month it published a contract notice to create a supplier framework for AI software that supports stroke treatment. The aim is to "provide AI solutions that support the analysis of medical imaging for... strokes and to support clinicians [to] diagnose and treat strokes faster and more reliably," the tender said.
Last year, the procurement joint venture launched a list of pre-approved cloud services suppliers for public sector organisations "to provide a simpler way for the NHS and other public sector organisations to make sense of an extremely complex market."
SBS is best known in these pages for a massive patient records ballsup that saw over half a million confidential pieces of correspondence go missing between 2011 and 2016, including test results and changes of address forms. The documents were apparently left gathering dust in a warehouse, as a result of which thousands of cases were sent for a full clinical review. ®