This article is more than 1 year old
Bitcoin value jumps as PayPal says it will accept cryptocurrencies... once it has the kinks worked out
Online payment goliath wants to encourage global use of virtual dosh
The value of Bitcoin spiked on Wednesday after PayPal said it would soon start accepting cryptocurrencies, including Bitcoin, Ethereum, Bitcoin Cash, and Litecoin, through its online payment system.
The announcement by its CEO Dan Schulman saw PayPal's share price rise 5.5 per cent, indicating a pent-up demand for more mainstream acceptance of virtual coins, even as the banking industry worries about potential abuse. Bitcoin shot up eight per cent on the news to a 2020 high of $12,800 apiece.
Schulman said PayPal had taken the decision in order to encourage the global use of digital currencies and that it would allow its users to buy, sell and hold cryptocurrencies in their digital wallet in the coming weeks.
"The shift to digital forms of currencies is inevitable, bringing with it clear advantages in terms of financial inclusion and access; efficiency, speed and resilience of the payments system; and the ability for governments to disburse funds to citizens quickly," Schulman said in a statement.
"Our global reach, digital payments expertise, two-sided network, and rigorous security and compliance controls provide us with the opportunity, and the responsibility, to help facilitate the understanding, redemption and interoperability of these new instruments of exchange."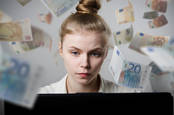 Cross-border digital payment system, championed by Saudi Arabia, gets green light... and yellow card from G7
READ MORE
It won't be until sometime in the first half of 2021 that people will be able pay for goods internationally with digital currency however. Schulman outlined a similar timeline for adding cryptocurrencies to its peer-to-peer payment app Venmo.
PayPal is not the only well-known consumer brand to accept cryptocurrencies. Square, for example, has allowed the exchange of cryptocurrency on its service for two years, and earlier this month announced the purchase of 4,709 Bitcoins – at the time worth $50m. The move that saw its share price jump 2.5 per cent, in large part because the markets feel there is a large amount of capital ready to be spent in cryptocurrency but which has limited outlets.
There is a definite movement in favor of the digital currencies, which allow for seamless exchanges across the globe without having to go through the traditional banking system or fluctuating exchange rates - both systems that banks take their cut from.
Let's go... not so fast
Earlier this month, global banking body the Financial Stability Board (FSB) gave a tentative green light to cross-border digital payments systems when it produced a roadmap for making this a reality and delivered a report to the world's 20 largest economies recommending moving forward.
That effort was met by an immediate warning from finance ministers and central bank governors of the G7, however, who put out a public statement arguing that any such services "should be appropriately supervised and regulated to address challenges and risks related to financial stability, consumer protection, privacy, taxation, cybersecurity, operational resilience, money laundering, terrorist and proliferation financing, market integrity, governance, and legal certainty, among others."
Of course the fact that Bitcoin's price jumped on the news that PayPal would accept it is also a big part of the problem for many: the digital coin is not rooted to any foundational value and so exists as a free-floating currency.
It may make things slightly easier and slightly cheaper to pay with a crypto currency but no one sensible is going to put their savings or business accounts into something that remains extremely volatile.
In that sense, PayPal with its vast global network of millions customers and merchants could prove to be the ideal anchor tenant to help stabilize digital currencies. It has already received the first conditional cryptocurrency license from the New York State Department of Financial Services, bringing things ever closer to Wall Street, which is always willing to take a risk for potential profit.
Ironically, if the next big banking company to get onboard with digital currencies has less of an impact on the value of those currencies, then it is a sign that they are more valuable. ®