This article is more than 1 year old
Fancy a steaming portion of Kentucky Fried Bork? A fingerlickin' flub that's pure poultry in motion
Greasy goodness plays havoc with a PC's disk
Bork!Bork!Bork! The best borks are the simplest, and today's is no exception. A black screen, a plaintive message, and a nugget of the Colonel's menu for the hungry masses has been lost.
Despite KFC's protestations to the contrary, "Finger Lickin' Good" still adorns the wall of this emporium to fried chicken and worryingly flaccid fries. While a reminder of the times when sticking a finger in one's mouth would not attract the ire of the UK's hand-face-space fixated politicos, we can't help but feel saddened that KFC failed to act on our top-voted slogan replacement: "Let The Colonel Into Your Colon".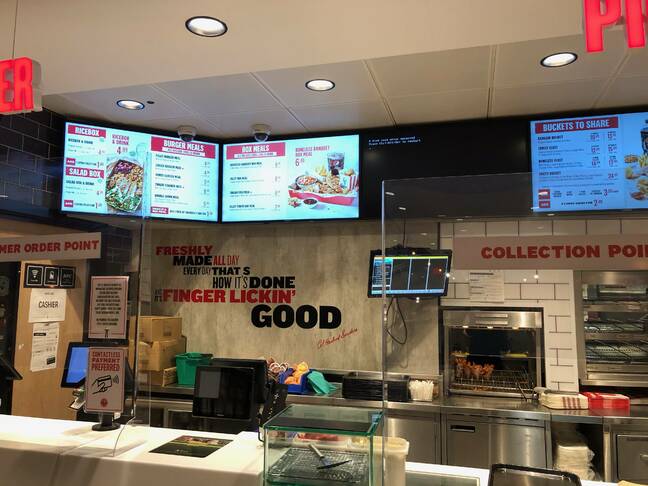 Four screens, alike in dignity... and number 3 is borked
Register reader Oliver spotted this bucket of bork, or "10 piece bargain BORKet" as he put it, while on a jaunt to Port Talbot in search of a boneless banquet, just before the recent Welsh lockdown rules kicked in.
The bork is a simple one, and yet speaks of complexity behind the scenes. We would have assumed the Samsung displays mounted above the heads of the poultry peddling staff might have required just the one system to drive them, but it appears that multiple PCs are needed to keep punters informed of the tubs of greasy delight on offer.
Except one, sadly, has an unhappy disk and is pleading for a restart. Almost with the same feeling of sadness and regret we get after ripping the flesh off the bones of an unfortunate bit of fried chicken.
Still, it could be worse. At least there is only a bork behind the counter. Things could be ickier. It might have been another four-letter word beginning with b and ending in k, if reports (denied by the poultry pusher) are anything to go by. ®