This article is more than 1 year old
OnePlus 8T: Solid performance and a great screen make this 5G sub-flagship a delight
Do you really need so much RAM, though?
Review Six months after OnePlus released a flagship, it followed with a slightly upgraded refresh of the same device. You can distinguish these souped-up variants from their predecessors by the "T" in the name. One such device is the OnePlus 8T — an affordable 5G powerhouse.
The 8T has premium specs without the pocket-pummelling usually demanded by a top-drawer phone.
OnePlus's schtick has always been about value, and it manages to deliver that in abundance here, bringing with it nimble Snapdragon 865 silicon, oodles of RAM, and blazing-fast 65W charging which can fully refill the phone's 4,500mAh battery in roughly 30 minutes.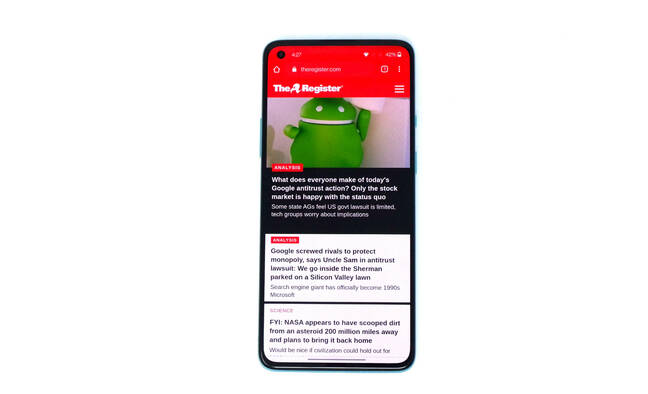 Click to enlarge
It also has one of the best displays I've experienced on a device in its price point, giving fantastic brightness and a hugely responsive 120Hz refresh rate, which makes UI elements feel slickly smooth.
The OnePlus 8T comes in two flavours: a £549 model with 8GB RAM and 128GB of storage, and a £649 variant with 12GB RAM and 256GB storage. OnePlus seeded El Reg with the latter.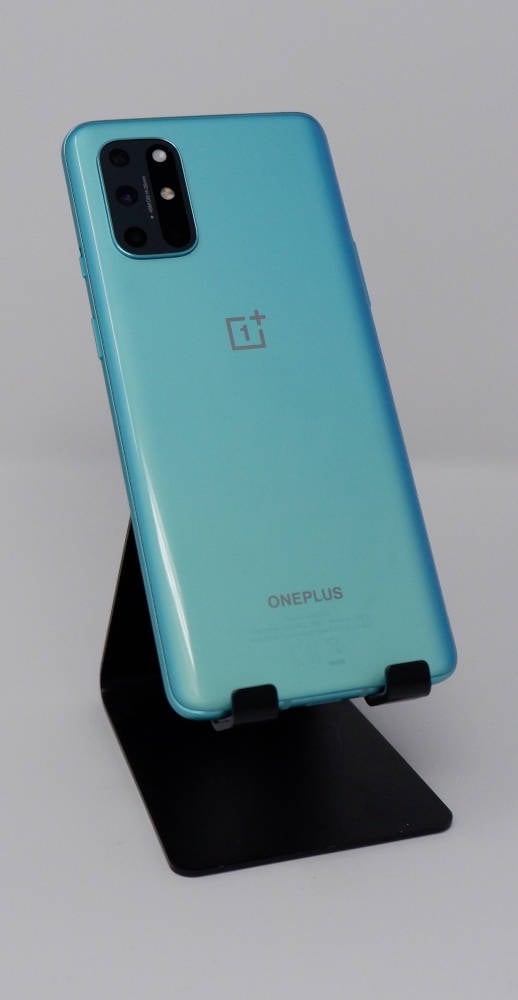 Click to enlarge
At the risk of sounding a bit like Bill Gates in 1981*, there's no real need for such huge amounts of RAM. There are devices that cope admirably with half of that. And while you could make the argument that having 12GB RAM offers some extent of future-proofing, that's only really true if you dabble in games and high-intensity content creating.
Still, with that throat-clearing out of the way, the OnePlus 8T performed admirably. You'd expect as much. It chewed through casual tasks — like browsing, checking emails and social media, and so on. Meanwhile, high-intensity mobile game titles like Call of Duty: Mobile simply screamed on this device, thanks to the over-the-top specs and highly fluid display.
Specs
Battery life is so-so, and we were able to last a full day of usage before having to run to the mains. The biggest hit to longevity comes from the phone's high-refresh rate display, which is to battery life what the Hummer is to fuel efficiency. Still, the phone's rapid charging meant I wasn't tethered for long — although the absence of wireless charging is a bummer.
OnePlus, like Oppo, thinks 65W fast charging can replace slower wireless charging. I'm not convinced. There's a certain convenience found in being able to plonk your device on a mat and have it slowly spring back to life. Plus, wireless charging surfaces are present in more places than ever, from restaurants and living room furniture, to high-end cars. Speaking as someone who tends to prioritise functionality over form, I would have been content to sacrifice a bit extra girth in favour of having Qi compatibility.
The display measures 6.5 inches and uses an AMOLED panel, which is a major upgrade on the LED fare typically found south of the £500 watermark. Colours look simply vibrant, while blacks are fantastically dark. The display uses a tall (and increasingly standard) 20:9 aspect ratio, which makes it ideal for productive busy-work, like reading emails. Embedded in the bottom of the screen is a fast and responsive fingerprint reader, which performs nearly as well as some of the physical readers we've used in the past.
Towards the back is a quad-camera setup. The primary sensor is a 48MP Sony IMX586 affair. Accompanying are a 16MP ultra-wide, a 5MP macro lens, and a 2MP monochrome. These produced shots that were good, but not quite outstanding, and the absence of a telephoto lens makes long-distance image capturing less fun.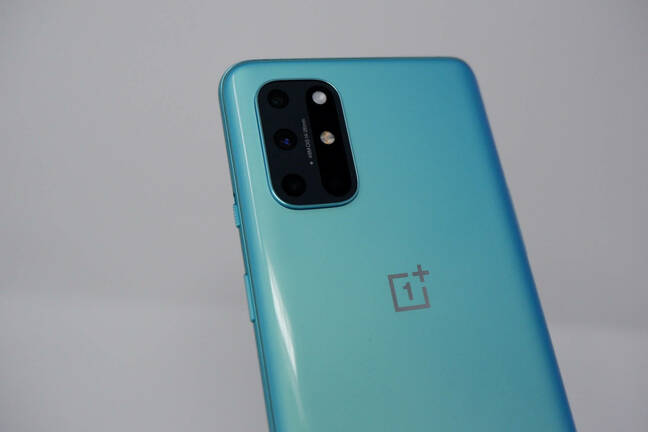 Click to enlarge
The OnePlus 8T runs Android 11 — which, by itself, is remarkable considering the sluggish pace of Android upgrades. Devices are still shipping with Android 10, and will likely do so for some time.
Running on top is OxygenOS, which is a fairly minimalist take on Android, with many of the stock UI features (like the app drawer) remaining in place. Still, OnePlus has made the effort where it matters, and I'm a big fan of the optional OnePlus Serif font, which looks classy and distinguished.
All things considered, the OnePlus 8T is a value-focused powerhouse that gets the fundamentals right: from its blazing-fast charging tech, to its outstanding screen. The camera isn't quite flagship material, and the absence of wireless charging is a shame.
This device should be considered alongside the Samsung Galaxy S20 Fan Edition (FE). While the FE has wireless charging, the OnePlus 8T manages to pip it in several key areas, from core specs to the 65W USB-C charging. It also sits in the same neighbourhood, price wise, as the Oppo Reno4 Pro 5G, although this is arguably a better phone, touting a far superior processor. ®
* Undermining the joke a bit, there's no actual evidence he said 640kB would be enough RAM for anyone.