This article is more than 1 year old
Yes, we have a 5G iPhone now. But that doesn't mean 5G has arrived
And please forget about that 4th industrial revolution because most networks only have NSA 5G
Feature 5G iPhones went on sale last Friday and a thousand social media pundits doubtless declared it meant the new network standard had capital-A Arrived and its role as catalyst of a "fourth industrial revolution" will now be realised.
Bring on the self-driving cars, delivery drones and billions of connected things all running on their own slices of software-defined network providing unprecedented security and speed, is the rallying cry.
But such enthusiasm is premature, because until standalone 5G networks arrive – most networks with 5G have only the NSA (non-standalone) flavour – the benefits of the new protocol mostly won't be available.
In the nearly two years since 5G networks and devices went on sale, evidence of economic upheaval has proven elusive.
So far, we've got some lovely new handsets that can do everything 4G handsets do, but faster. Which is just what the iPhone 12 will do – once carriers make more investments.
Sensors only need to transmit a tiny amount of information every hour or day, so you probably don't need 5G.
While China claims to have wired all of its cities for 5G and to have over 100 million users, in most of the world 5G networks for mobile devices remain patchy and download speeds are significantly slower than promised gigabit connections. A recent study of the American market by research outfit RootMetrics found that in the first half of this year AT&T's 5G (NSA) speeds were 46Mbps, only slightly faster than its 4G LTE speed of 43 Mbps. Rival carrier T-Mobile's 5G speeds were even worse at 25 Mbps.
In South Korea, arguably the country with the most advanced 5G ecosystem, the average 5G connection zips along at 657 Mbps, according to the Ministry of Science and ICT.
That bandwidth has led South Korea's largest mobile operator, SK Telecom, to broadcast live multistreams of baseball games that allow fans to watch from up to 12 angles on one screen and trigger their own instant replays. The Tokyo Olympics is planning to use 5G to livestream holograms of some events.
Neither application represents an industrial revolution, never mind a consumer game-changer.
Generations of technology are eight to 10 years long and we're still only one year into 5G
Research firm IDC forecasts that smartphone shipments will drop by nearly 10 per cent this year, specifically noting that, despite price drops, demand for 5G smartphones remains "very low".
"Overall, yes, there is some interesting innovation out there, but the industry is still struggling to find a real driver for consumers to migrate from 4G to 5G," explained Kester Mann of mobile and wireless sector consultancy CCS Insight.
"At the moment and probably into next year, the best use case for consumers is better 4G – faster speeds, better connectivity, a guarantee of high-quality service. That may not be very innovative or creative, but it is really impactful for users," he told us.
Analysts reckon that the new iPhone 12 could be so popular that carriers step up. They predict that the new models will unleash a "supercycle" that could drive record-breaking sales of up to 240m.
"For many, the launch of a supporting iPhone is the real beginning of 5G," said Mann. "Much will depend on pricing and positioning, but the new iPhone will inevitably sell in huge volumes and bring a welcome shot in the arm to the 5G ecosystem, stimulating demand in many markets."
But even a surge of 5G handset adoption will not be enough to kickstart the 5G revolution, reckoned Peter Liu, an analyst at Gartner. "Consumers' motivation for purchasing the iPhone 12 may not be because of 5G, but mainly because they need a new phone," he said. "Personally, I believe it will have some positive impact on the 5G market, but not as big as expected."
Waiting for real 5G
And that promised internet of things revolution over 5G? It is stalled for now because 5G speeds and smarts aren't yet necessary or available.
Most of today's operating 5G networks are "non-standalone", meaning the new 5G towers piggyback off existing 4G infrastructure. This results in faster speeds than bog-standard 4G, but not nearly the vastly faster connections 5G can deliver. These speeds and many of the other key advantages touted by 5G evangelists, such as network slicing and ultra-low latencies, only become available with greenfield 5G implementations built on 5G and nothing but 5G.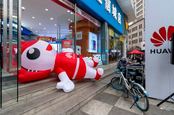 China makes treatment of its 5G vendors an issue to rank with climate change or disarmament
READ MORE
And the early standalone 5G networks – which don't rely on underlying 4G kit for secure handoff, amongst other things – that are being installed on campuses are mostly Wi-Fi replacements.
Such networks are real. Last month, Mercedes-Benz opened the doors to its €730m 5G-enabled smart factory in Sindelfingen, Germany. The site uses 5G to operate roughly 400 automated guided vehicles (AGVs), such as unmanned forklifts and security drones, which, together with a number of other smart factory innovations, are said to have helped increase the factory's efficiency by 25 per cent compared to the previous plant.
Similar solutions are being rolled out by other automakers, including BMW and Audi, as well as across global transport hubs, such as shipping ports and airports.
Why go for expensive campus 5G when you could just use Wi-Fi? "[The current iteration of] Wi-Fi wasn't built to support movement," Gartner's Liu explained. "So if a mobile device such as a drone or an AGV moves from one cell to another, there needs to be handover. These mechanisms are better performed by a cellular network than by Wi-Fi." He added that 5G also provides better security and, because its performance standards are higher, assures a better quality of service than Wi-Fi.
5G can be a trigger or an enabler, but you need a whole ecosystem around the technology to accelerate it.
But while industry giants like Mercedes-Benz and BMW can afford to build their own 5G infrastructure, the hefty cost of doing so remains out of reach for most enterprises. And even if they want to get native 5G from carriers, analysts reckon that it will be at least a year in Asia, and two to three years in Europe and the United States, before telcos are ready to offer such services.
What's more, the next iteration of Wi-Fi—802.11ax, AKA Wi-Fi 6 — promises to fix many of the protocol's current problems. The technology, which was standardised late last year, offers roughly similar maximum download speed as 5G, and cuts latency by 75 per cent compared to Wi-Fi 5. It is also significantly cheaper to deploy and maintain.
Gartner's Liu reckons that that in future, companies will not choose between campus 5G and Wi-Fi, but will use both in a "heterogenous environment" where "different technologies will serve different use cases". 5G, for instance, could be used for high-performance, mobile applications, while Wi-Fi would be would be used for stationary devices.
One field in which 5G is being advanced as a winner is wireless broadband in locations with poor terrestrial connectivity. Australia's largest telco, Telstra, is piloting a project to provide 5G to the agricultural industry in the regional hub of Toowoomba. As part of the project, Telstra is helping farmers install narrow-band sensors across their operations. These sensors, which can have a battery life of up to 10 years, can be used to monitor moisture and nutrient levels in crop soil, or to track livestock "paddock to plate".
The main benefit of such sensors is that they can be combined with automation and other technologies, said Paul Milford, head of networks at Telstra's mobile R&D unit.
He gave the example of soil sensors on sugar cane farms communicating with automated water release valves that previously had to be operated by hand. "We are creating a benefit for the farmer, a benefit for the government because water utilisation is a key concern, plus a flow on benefit for the great barrier reef because it minimises the amount of nutrients that run-off into the water, which impacts the reef," he said.
But while smarter farming will doubtless have a good impact on the agricultural industry, using high-end technology such as 5G in such settings is overkill, according to CCS Insights' Mann. "These sensors only need to transmit a tiny amount of information every hour or day, so you probably don't need 5G yet. At its current price point, it is not worth the cost," he said.
Even if the new iPhone helps popularise 5G with consumers, it is no silver bullet, reckons Liu. He said that it will still take decades before the technology's most exciting applications, such as self-driving cars and remote surgeries, come into force. "People put too much emphasis on 5G and forget that a lot of other elements need to be ready, too," he said. "5G can be a trigger or an enabler, but you need a whole ecosystem around the technology to accelerate it forward."
As an example, he cited mixed reality kit: "The success of the AR and VR doesn't depend only on 5G, but the whole ecosystem of AR and VR devices and their components, the cost of producing content specifically for that technology. It will take time before those elements are ready."
Mann agreed that the technology has a way to go before it fully comes online. "5G is fantastic technology with a lot of potential, but it's very early days in that roadmap," he said. "I think a lot of people thought, 'Wow, 5G has launched. We're going to have autonomous cars and remote surgery from day one' – and that was never going to be the case. Often generations of technology are eight to 10 years, and we're still only one year into that. There's a long way to go." ®