This article is more than 1 year old
SAP stock price crashes 23%, €28bn wiped out as firm warns of Klein(er) revenues, profits ahead due to COVID-19
SAP: Look into the cloud, look around the cloud... you're under. Market: Nope
Europe's largest software manufacturer, SAP, took a massive hit to its share value this morning cutting its profit and sales outlook for the full financial year, as businesses continued to scale back investments during the COVID-19 pandemic.
At the time of publication, it was trading on the NYSE at $114.52, a drop of $35.16, or 23.49 per cent, from its Friday closing. Other business software stocks, including Oracle and Salesforce, have also experienced dips this morning.
SAP said it expects [PDF]: €8bn to €8.2bn non-IFRS cloud revenue (down from €8.3bn - €8.7bn); €23.1bn - €23.6bn non-IFRS cloud and software revenue (previously €23.4bn - €24bn); €8.1bn to 8.5bn non-IFRS operating profit at constant currencies (previously €8.1bn - 8.7bn).
SAP had already cut its full-year guidance in April, warning that business had slowed during March due to the initial impact of COVID-19.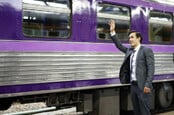 German-speaking SAP user survey sees S4/HANA upgrade projects either sink or swim as coronavirus cuts into revenue
READ MORE
Meanwhile, for its third quarter, ended September 30, it said revenue had dropped by 4 per cent to €6.535m year-over-year. Operating profit plunged by 12 per cent to €1.473bn.
SAP's services business unit was the most acutely affected, dropping 16 per cent to €753m. The firm partially attributed this to the closure and subsequent delayed re-opening of training centres, although it noted consulting projects were largely able to continue to proceed without much impact.
Revenue in SAP's Concur business unit — which handles travel, expense, and invoice management tech — also plunged. sales were down 14 per cent to €357m, which the firm blamed on pandemic-inducted travel restrictions, resulting in lower volumes from "pay-as-you-go" customers. SAP acquired Concur in 2014 for a cool $7bn.
The firm said it "no longer anticipates a meaningful recovery in SAP Concur business travel-related revenues for the remainder of the year 2020."
Software licensing and support is SAP's bread and butter. This sector was down 2 per cent to €5.17bn. The sole bright spot came from SAP's cloud businesses, which collectively brought in €1.974bn, up 11 per cent.
Trying to put a positive spin on otherwise dismal figures, SAP CEO Christian Klein said in a canned statement:
"COVID-19 has created an inflection point for our customers. The move to the cloud combined with a true business transformation has become a must for enterprises, to gain resiliency and position them to emerge stronger out of the crisis.
"Together with our customers and partners we will co-innovate and reinvent how businesses run in a digital world. SAP will accelerate growth in the cloud to more than €22bn in 2025 and expand the share of more predictable revenue to approximately 85 per cent," he added.
This is a regular refrain from SAP, which has increasingly touted the growth of its cloud business in the face of shrinking licensing and support revenue. This has been bolstered by several strategic investments over the years, including Callidus, which was bought to booster the German firm's cloud CRM chops. ®