This article is more than 1 year old
Advanced Money-making Devices: AMD inks multibillion stock deal for FPGA specialist Xilinx
Intel rival up 50%+ in profits just a week after Chipzilla 30% plunge
Chip slinger AMD celebrated bonzer revenue and profit for its third quarter, ended 26 September [PDF] with a $35bn all-stock acquisition of FPGA outfit Xilinx.
The acquisition is aimed at bolstering AMD's presence in the data center, and is expected to show up in AMD's margins and cash flow immediately. The transaction puts the combined enterprise value at $135bn.
San Jose-based Xilinx is all about Field-Programmable Gate Array (FPGA) tech and its products crop up throughout the industry, including the fields of AI and machine learning. The company lays claim to more than 60,000 customers and over 4,400 patents in its effort to (as it puts it) build "the Adaptable, Intelligent World."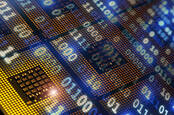 Down the Swanny: '2020 has been the most challenging year in my career' says Intel CEO as profit plunges 30%
READ MORE
AMD president and CEO Lisa Su said on a call with analysts today: "In packaging, Xilinx has demonstrated leadership and significant IP in the 2.5-D and 3-D die stacking technologies that are becoming increasingly important as Moore's Law slows."
Contrasting with AMD's gains today, the FPGA-flinger's last set of results, published last week, were not quite so stellar. While the company beat estimates (coming in above the midpoint of guidance), its Q2 FY2021 revenues dropped to $767m from $833m the previous year, an 8 per cent drop. A 13 per cent fall in the Asia-Pacific market (which makes up nearly half of the company's revenues) was mainly to blame, despite a strong showing in Europe.
The ban on the company flogging its wares to Huawei will also not have helped matters, but during its investor presentation CEO Victor Peng trumpeted the company's "strategic transformation to an adaptive platform company". And, presumably, to an acquisition target for AMD.
AMD itself reported an impressive Q3 FY2020, with revenues of $2.8bn and a gross profit of $1.2bn. Year on year, revenue was up 56 per cent and profit 58 per cent.
If you listen carefully, you can hear the sound of teeth gnashing from Intel, which reported a slip in Q3 revenue to $18.3bn in what CEO Bob Swan told analysts was "the most challenging year of my career."
Not so for AMD, reporting its fourth straight quarter with more than 25 per cent revenue growth.
The Zen biz put today's figures down to higher revenue in both the Enterprise, Embedded and Semi-Custom, and Computing and Graphics segments. Margins were pretty much flat at 44 per cent, with a single percentage point year-on-year increase accounted for by Epyc and Ryzen processor sales.
While the computing and graphics segment contributed $1.67bn to the figures (a year-on-year increase of 31 per cent), driven by those Ryzen processors, the company did note a drop in average selling price (ASP) of client processors due to a higher mix of mobile processor sales. A lower GPU ASP year on year was attributed to product cycle timing.
AMD has enjoyed quite the run of things as its processors have continued to find their way into the data centres of Amazon, Microsoft, Oracle, and IBM to name but four.
The chip giant has forecast that things will continue to grow into the next quarter, with revenue expected to crack $3bn (plus or minus $100m) and increased its guidance of 2020's revenue growth to 41 per cent from 32 per cent compared to 2019.
Gartner veep Alan Priestley said of the Xilinx acquisition: "Xilinx revenue is down this year, mainly impacted by comms and auto market slowdown due to COVID-19, not sure this has made them a more attractive target, I suspect this is more the success AMD is having in the markets and its biz growth.
"While the two companies have little/no overlap in terms of products, they do have markets in common (data centre) where the use of FPGAs as AI accelerators and network accelerators is interesting. Xilinx could help AMD into the comms market.
"FPGAs are interesting for edge computing as are the Xilinx ACAPs and will likely help AMD gain share in the edge. "This will give AMD a broader set of products for the data centre, complementing its CPUs & GPUs with FPGA-based workload accelerators and also using ACAPs for smartNICs." ®