This article is more than 1 year old
Oculus owners told not only to get Facebook accounts, purchases will be wiped if they ever leave social network
Hotel Zuckerfornia: You can check in but you can never check out... without losing everything
Oculus users, already fuming at Facebook chaining their VR headsets to their Facebook accounts, have been warned they could lose all their Oculus purchases and account information in future if they ever delete their profile on the social network.
The rule is a further binding of the gaming company that Facebook bought in 2014 to the mothership, and comes just two months after Facebook decided all new Oculus users require Facebook accounts to use their VR gizmos, and all current Oculus users will need a Facebook account by 2023. Failure to do so may cause apps installed on the headsets to no longer work as expected.
The decision to cement together what many users see as largely unrelated activities – playing video games and social media posts – has led to a wave of anger among Oculus users, and a renewed online effort to jailbreak new Oculus headgear to bypass Facebook's growing restrictions.
That outrage was fueled when Facebook initially said that if people attempted to connect more than one Oculus headset to a single Facebook account, something families in particular want to do as it avoids having to install the same app over and over, it would ban them from the service.
Facebook has since dropped that threat, and said it is working on allowing multiple devices and accounts to connect. But the control-freak instincts of the internet giant were yet again on full display, something that was noted by the man who first drew attention to Oculus's new terms and conditions, CEO of fitness gaming company Yur, Cix Liv.
"My favorite line is 'While I do completely understand your concerns, we do need to have you comply with the Facebook terms of service' like Facebook thinks they are some authoritarian government," he tweeted.
Rumblings
All of this makes a promise made by Oculus's former CEO Palmer Luckey, when it was acquired by Facebook, sound rather hollow. "I guarantee that you won't need to log into your Facebook account every time you wanna use the Oculus Rift," Luckey said on a Reddit post discussing the purchase.
Efforts to jailbreak the Oculus Quest 2 also got a boost when Mozilla engineer Robert Long offered $10,000 to anyone who could pull it off. On Monday, one group said it had managed to do so and could bypass the Facebook login requirement, and the news was rapidly disseminated by angry players.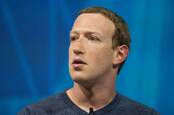 Facebook apologizes to users, businesses for Apple's monstrous efforts to protect its customers' privacy
READ MORE
Which made it the perfect day for Facebook to announce its new cloud gaming service that will allow users to stream and play games for free without downloading them.
"We're not spinning off a separate cloud gaming service," the mega-corp said in a blog post. "All cloud-streamed games are playable in the same way you play games now on Facebook - whether it's in our Gaming tab or from News Feed. No special hardware or controllers needed - your hands are the controllers since we're launching with native mobile games. And you can play these games with a mouse and keyboard on desktop."
Despite its own policies, Facebook had no problem with publicly complaining about Apple's hard-line stance regarding software allowed on its iOS operating system. Facebook's new service won't be available on iPhone or iPads, Facebook whined, because "Apple treats games differently and continues to exert control over a very precious resource." ®