This article is more than 1 year old
What will you do with your Raspberry Pi 4 this week? RISC it for a biscuit perhaps?
Open-source RISC OS 5.28 brings support for latest ickle 'puter as well as hundreds of fixes
An update for open-source Arm operating system RISC OS at the weekend features stable support for the Raspberry Pi 4 computer.
It continues a pleasing symmetry. Among the inspirations for the original Raspberry Pi were the BBC Microcomputer wares of Acorn Computers, so seeing an operating system that has its origins in Acorn's Archimedes and RiscPC turn up on the Pi 4 delights our inner nerd.
While version 5.28 heralds stability, work on the port had been under way since before the launch of the Pi 4 while support for earlier flavours have been available in the OS for a while. The current port should work on most models including the Zero and Zero W. The Compute Modules should also work (although only up to Compute Module 3+ according to the team – we didn't have a Compute Module 4 to hand to see what would happen with 5.28).
Stable Pi 4 support aside, the release is a little later than planned, which is forgivable considering one thing and another, and contains hundreds of tweaks to the operating system aimed at usability and stability.
We took it for a spin and can report that it is all feels just that bit snappier. Clipboard support is also now system wide, and the built-in Paint application has been overhauled (colour handling in particular has seen some serious attention). Network security has been beefed up and there is better support for RISC OS systems with more than 2GB RAM fitted.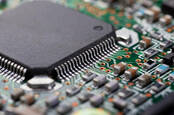 Time for a virtual love affair: ESXi-Arm Fling flung onto the web for peeps to test drive with Raspberry Pi 4, other kit
READ MORE
Handy, considering the sales success the 4 Model B turned out to be for the Raspberry Pi Foundation.
The temptation to pop a Pi 4 with RISC OS 5.28 on the SD card into the discarded shell of an Acorn computer remains overwhelming; tat bazaar eBay has non-working examples of the Archimedes for a hair over £30.
The Register spoke to Pi supremo Eben Upton, who told us: "It's great news, and the result of a bunch of work at RISC OS Open Ltd (ROOL) and Raspberry Pi.
"We provided the team with access to our BSD-licensed clean-sheet reference drivers for the Gigabit Ethernet and PCI Express cores. Tim Gover, one of the firmware engineers here, developed these to support our PXE and USB boot modes, but they're also useful for operating systems like RISC OS that can't integrate the more full-featured but GPL-licensed Linux kernel drivers."
The Raspberry Pi team were, of course, just one part of the effort to bring 5.28 to fruition.
"ROOL were some of the first people I spoke to back in 2011, when we were trying to get the project off the ground," Upton said before adding: "I lusted after the Acorn Archimedes as a kid. I'm looking forward to having a play with the new release."
While the arrival of official desktop support for the Pi in Ubuntu 20.10 may be have drowned things out somewhat, the arrival of a stable version on RISC OS for the diminutive computers merits a tinker on an SD card or two. ®